Blog Home
Contemporary Gestural Abstraction At Your Fingertips
Jun 12, 2020
Unpremeditated spontaneity and unconstrained freedom most distinctly captured in the gestural abstraction matured along with the artist's fervent quest for freedom, authentic self, and a myriad of emotional possibilities. Locating the birthplace of the creative process in subconsciousness, proponents of gestural abstraction embraced the Surrealist practice of automatism along with Jungian psychoanalysis and its modern derivatives as they sought to unearth the concealed provenance of their art. The plunging into the abysses of the self and succumbing to the irrational aspect of creativity remained an inspiration for contemporary gestural abstraction. By throwing, dripping, dribbling, smearing, splashing, pouring and/or splattering paint and performing dynamic, unrestrained movements that accentuated the physicality and bodily pronouncement, they have created one of the most radical styles of contemporary art. By the mid-sixties, all the craze faltered, much due to the heavy criticism that even challenged the artistic nature of gestural art. Though sidelined and abandoned by its key promoters, gestural mark-making was mainstreamed into abstract art, becoming one of its most distinguishing features. We at IdeelArt are home to many contemporary artists who embrace gestural abstraction to most emphatically express their innermost selves and their creative genius. Below you will find our selection of contemporary gestural abstraction that spans a number of diverging styles. Choose your favorite artwork from these ten marvels and add it to your collection.


Jaanika Peerna - Tipping Point #5
Peerna is known for her use of bodily movements to simulate natural forces such as wind, falling water or gravity inscribing the raw and primordial impulses on sheets of Mylar attached to a board. With a number of pencils in each hand, she executes a single, fluid, whole-body gesture mimicking the motion of natural phenomena. In the Tipping Point series, she applies her usual approach to create a spontaneous, black upon translucent white piece that is an instantaneous record of a singular natural event. Peerna is an Estonian-born artist whose work encompasses drawing, video, installations, and performances. She lives and works in New York, Berlin and Tallinn.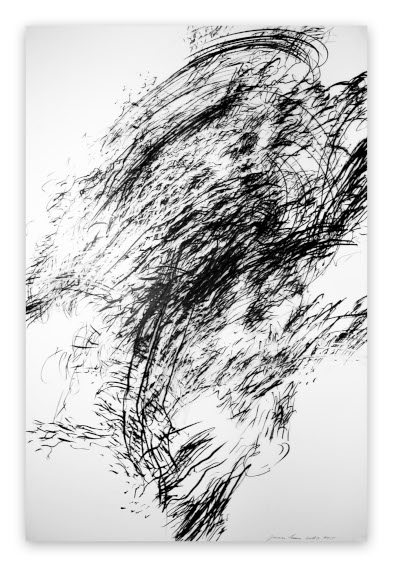 Jaanika Peerna - Tipping Point #5, 2019. Pigment pencil on Mylar. 137.16 x 91.44 cm.
Gina Werfel - Gesture
This oil piece of a self-explanatory title, Gesture, consists of a series of gesturalmarks that generate a movement through the canvas as thin washes create a sense of transparency, and drips create a gridded effect. Werfel delves deep into her unconscious self as she floats through uncharted territories of her concealed mental experiences. Conversely, vibrant, and serene color choices encapsulate the brisk motion and erratic spontaneity of her technique. Werfel is an American abstract painter whose work uses vivid color, lyrical gestures, and complex compositional structures to explore harmonies within visual space. Raised on Long Island, she currently lives and works near Sacramento, California.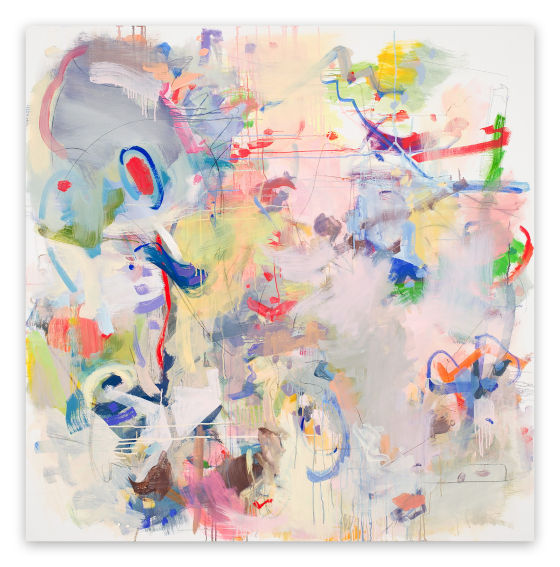 Gina Werfel - Gesture, 2010. Oil on canvas. 122 x 122 cm.
Macha Poynder - Dance Pieces #7 (White Josephine)
Dance Pieces #7 (White Josephine) is an emotional and invigorating piece in which Poynder's fluid, intangible and ample touch expressed in gesture, line, and color, converges in an unprecedented experience of expanded perception. She blends automatic drawing, performative gestures, and intuitive color choices to resurface the most primordial aspects of her subconsciousness. The evident randomness of her work meets the trained precision as multiple layers and colors reveal the complexity and impenetrable mysteries of the world. Poynder is a Russian-born, Paris-based artist whose multi-disciplinary oeuvre is inspired by the philosophies and aesthetic principles of Abstract Expressionism.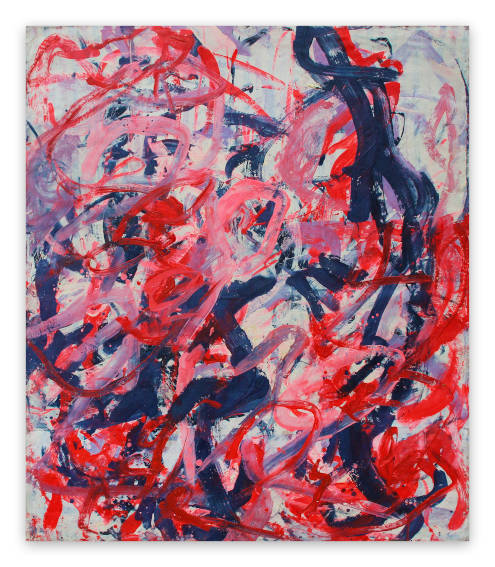 Macha Poynder - Dance Pieces #7 (White Josephine), 2012. Oil on un-stretched canvas. 130 x 114 cm.
Greet Helsen - Sonnentaler
Helsen celebrates her encounters with nature through her colorful and vibrant compositions much with Sonnentaler, a natural phenomenon of round bright spots dancing on the ground and emerging through the inconsistent tree shade. She translates the lightness and elegance of the phenomenon on her canvas by applying diluted pigments, splashing the colors - layer after layer - until the shimmering areas of color are transparently superimposed onto one another. Helsen is a Belgian artist who is inspired by nature, drawing abstract landscapes and using acrylic like watercolor. She lives and works in Switzerland.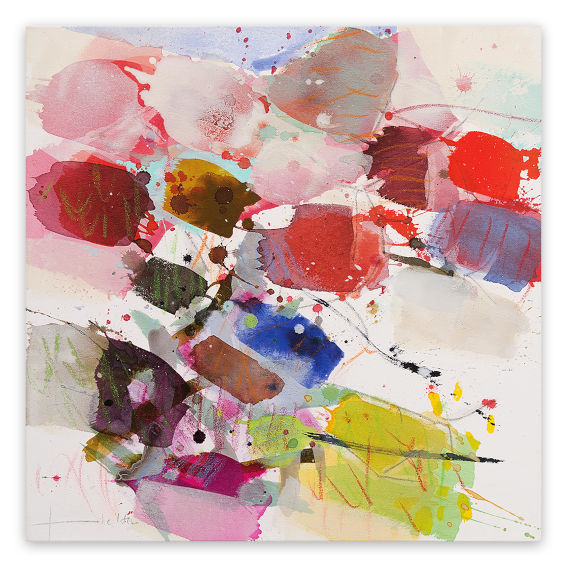 Greet Helsen - Sonnentaler, 2017. Acrylic on canvas. 65 x 65 cm.
Daniela Schweinsberg - A Breath of Summer V
This work, exclusive to IdeelArt and part of A Breath of Summer series, is a galvanizing layered painting that showcases Schweinsberg's fathomless emotional depth. She applies different techniques to emphasize the simultaneously chaotic and harmonious nature of beauty. Her powerful work results from her unrushed and intuitive approach as her robust brushwork and limited palette reveal her emotionally driven creative process. Schweinsberg is a German abstract artist whose lyrical paintings derive their raucous power from a mix of raw emotion, vibrant color, and layers of energetic brushstrokes. She lives and works in Frankfurt, Germany.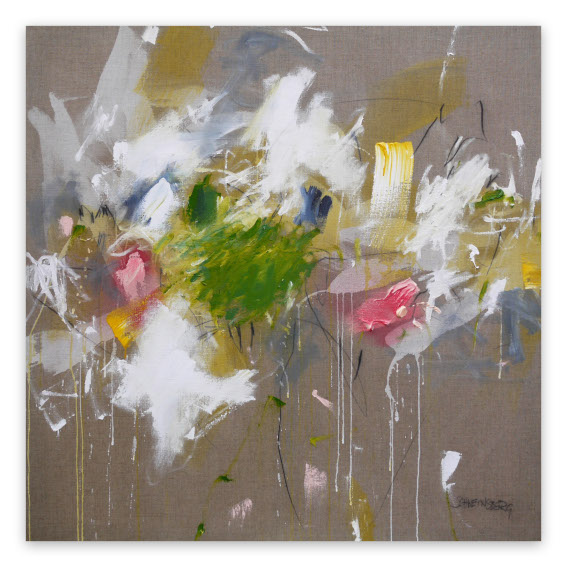 Daniela Schweinsberg - A Breath of Summer V, 2019. Acrylic/mixed media on linen. 100 x 100 x 2 cm.
Xanda McCagg - Stand
Stand epitomizes a meticulous exploration of the interplay between figuration and abstractions as the relationship of forms suggests the variable nature of humanness. McCagg's ideas of connections and disjunctions between people are, however, articulated through abstraction with painted forms and graphite lines. In her search for human essence, she develops a compelling aesthetic vocabulary that can express her immersion in both perception and imagination. McCagg is an American abstract artist who lives and works in the Chelsea neighborhood of New York City. A classically trained painter, she has evolved into a style that abandons figuration in search of evoking the human essence.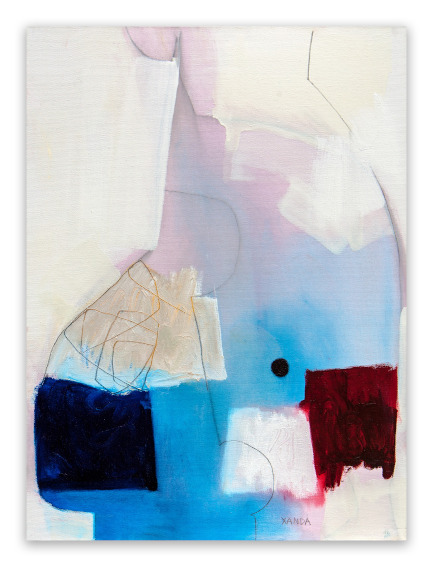 Xanda McCagg - Stand, 2015. Oil and graphite on canvas. 60.9 x 45.7 cm.
Michael Cusack - St.Germain
This strong and persuasive mixed media piece is a result of Cusack's highly physical technique, full of striving and intense focus. His colors are thick and heavy and radiate seriousness and danger simultaneously. The surface is built up with color, applied in unpremeditated movements, inquisitively as he coaxes shapes into existence. The shapes and forms in St.Germain are locked in the struggle and the rising tension is resolved in the labor-intensive embodiment of his metaphysical ideas. Cusack is an Irish-born, Australia-based abstract painter. His work is painterly, emotive, dramatic, and evocative of the struggle between forces of nature. He lives and works in Byron Bay, Australia.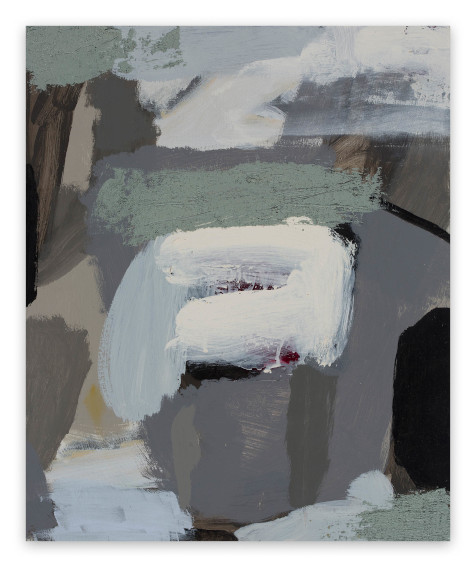 Michael Cusack - St.Germain, 2018. Mixed media on plywood. 46 x 38 cm.
Tommaso Fattovich - Soul to Squeeze
Celebrated for his Abstract Punk style, Fattovich disruptively expresses his most primordial sentiments by viscerally responding to the colors, layers, lines, and shapes. Soul to Squeeze reflects his bold attempts to deep dive into subliminal as he plays with the composition applying the Surrealist strategy of automatism. His brisk application of paint encapsulates Fattovich's emotional expression found in the fathomless depths of his subconsciousness. Fattovich is an Italian abstract painter who deploys the Surrealist strategy of automatism to create raw, layered, emotive works that convey feelings of desolation and decay. He lives and works in Delray Beach, Florida.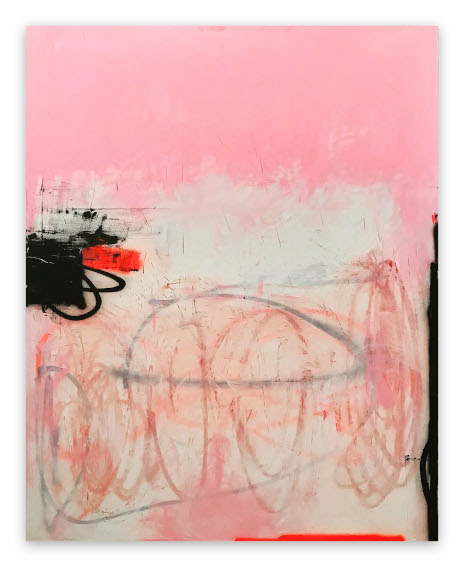 Tommaso Fattovich - Soul to Squeeze, 2019. Mixed media on canvas. 152.4 x 121.9 cm.
Yari Ostovany - Peregrine No.16
The inspiration for the Peregrine series Ostovany found in peregrine's profuse semiotic references that include falcons as well as travelers and foreigners. He visually re(creates) this polysemy by applying multiple layers of pigments washed out and covered over, scraped away, and dissolved to add to the depth and luminousness of the composition, thus producing a spiritual fusion of Abstract Expressionism and Color Field painting. Ostovany is an Iranian-born American abstract artist. He creates richly textured, layered color field paintings that explore processes of metamorphosis. He has lived in Tehran, Cologne, Los Angeles, New York and Reno. He currently lives and works in New York.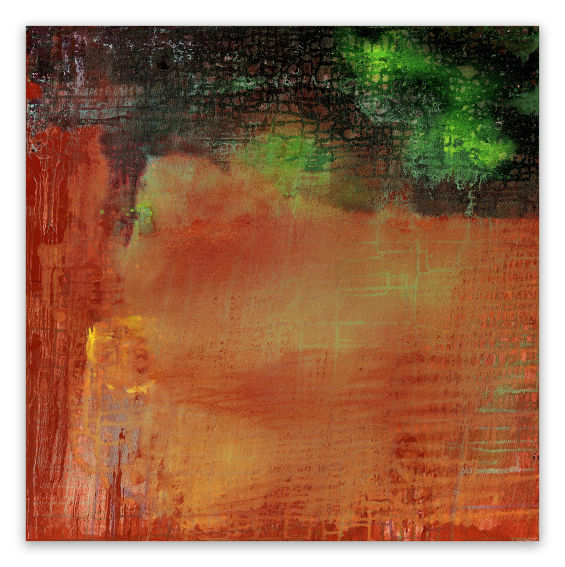 Yari Ostovany - Peregrine No.16, 2015. Oil on canvas. 76 x 76 cm.
Laura Newman - Calligraph
Calligraph is, along with Swoop and Swerve, part of in-progress paintings on handmade Wasli paper that Newman discovered while traveling in India. Her geometric delineation of space and ephemeral color fields is accentuated by the simultaneous use of ink and acrylic. Her working process is porous with abrupt and unpredictable movements that emphasize freedom and all the surrounding limitations -- both spatial and metaphorical. Newman is an American abstract artist who creates vivid, dynamic paintings that revel in a harmonious balance between gestural brushwork, hard-edge geometric spatial arrangements and layered, architectural compositions. Born in Cleveland, Ohio, Newman currently lives and works in Brooklyn, New York.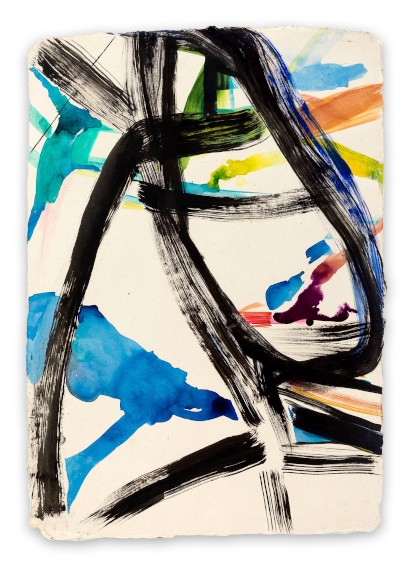 Laura Newman - Calligraph, 2017. Ink and acrylic on handmade wasli paper. 78.7 x 57.2 cm.
Featured image: Gina Werfel - Gesture, 2010, installation view.
By Jovana Vuković