Blog Home
The Delicate Beauty of Constantin Brâncuși's Bird in Space
Jun 10, 2019
Constantin Brâncuși is considered the most influential sculptor of the 20th Century, and his most influential sculpture is considered to be the elegant "Bird in Space" (1923 – 1940), of which sixteen versions, made from either bronze, marble or plaster, are known to exist today. The sculpture does not portray a figurative representation of what most people would recognize as a bird in flight. Rather, it resembles an elegant, vertical form, like a wave of energy vaulting up from the ground. Most people would probably describe it as an abstract representation of a bird in space. But Brâncuși himself may not have agreed with that description. To him, the sculpture was, in fact, realistic. The artist once said, "What my work is aiming at is, above all, realism: I pursue the inner, hidden reality, the very essence of objects in their own intrinsic fundamental nature; this is my only deep preoccupation." The distance between what we think of as reality and what Brâncuși was trying to show us can be quite contentious at times. To some, the distinction between abstraction and representation is clear. To others, there is no difference whatsoever. The perspective Brâncuși advocated for is that everything represents something, even if it only represents itself, so all art is therefore representative; and yet every plastic representation of something is understood in the realm of ideas, meaning all art is fundamentally abstract. A beautiful, delicate balance exists somewhere between these points of view, much like the beautiful, delicate balance of "Bird in Space."
But Is It Art?
As famous as Brâncuși is today, most of the praise we now heap upon him is given in hindsight. When he was first making the "Bird in Space" series, he was still very much toiling to establish his reputation—not only in his studio, but in the court of public opinion. The earliest known version of "Bird in Space" was even the subject of one of the most contentious and significant court cases in the history of abstract art. In 1926, Brancusi shipped 20 sculptures to the United States aboard a steamship to be exhibited first at the Brummer Gallery in New York, and then at the Arts Club in Chicago. The artist Marcel Duchamp, a friend of and advocate for Brâncuși who had curated the exhibition, accompanied the sculptures on the trip. When the works arrived in New York, customs officials informed Duchamp that he would have to pay a 40 per cent tax on "Bird in Space" because it did not fit the strict official definition of a sculpture, which said that sculptural works of art had to be: "reproductions by carving or casting, imitations of natural objects, chiefly the human form."
Constantin Brâncuși - Bird in Space, 1928. Bronze. 54 x 8 1/2 x 6 1/2" (137.2 x 21.6 x 16.5 cm). MoMA Collection. © Succession Brancusi - All rights reserved (ARS) 2018.
After the story was reported in the news, officials decided to temporarily allow the artwork in. But they later insisted on collecting the tax. Brâncuși subsequently sued the United States government. The court case Brâncuși v. United States not only ended up changing the law, but also fundamentally changed the way the public perceived abstract art. The main question in the trial was whether "Bird in Space" truly represented what the title said it was. Several influential museum professionals argued in favor of the sculpture, with one art critic saying "It has the suggestion of flight, it suggests grace, aspiration, vigor, coupled with speed in the spirit of strength, potency, beauty, just as a bird does." But the question was also raised whether the title of an art work actually means anything anyway. The judge ultimately determined that the United States government was out of touch with Modern art, and ruled that this artwork was an "attempt to portray abstract ideas rather than imitate natural objects." He decreed, "Whether or not we are in sympathy with these newer ideas...the facts of their existence and their influence upon the art worlds...must be considered."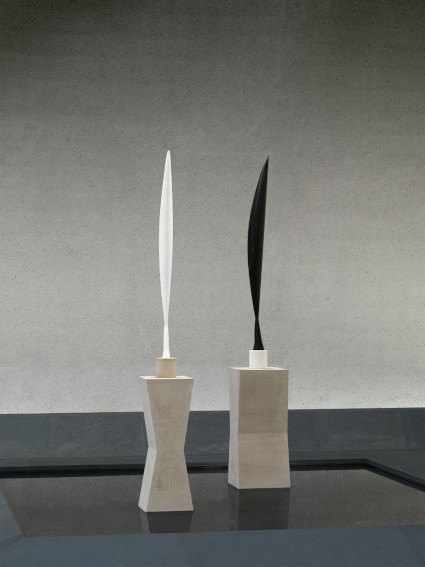 Constantin Brâncuși - Bird in Space, 1931-36. White marble, limestone 'collar', sandstone base. Overall: 318.1 h x 42.5 w x 42.5 d cm, sculpture: 184.0 h 44.0 diameter cm, collar: 17.1 h 17.8 diameter cm, base: 117.0 h x 42.5 w x 42.5 d. Purchased 1973. National Gallery of Australia. © Constantin Brancusi. ADAGP/Copyright Agency.
A Material Legacy
It was especially baffling to Brâncuși that the tax was originally levied on his sculpture because he believed that his sculpture was in fact a realistic portrayal of nature. To further understand his point of view, it is important to think about how the piece was made. Brâncuși was an advocate for doing as much as possible with his own hands, believing that the fine touches that transformed his sculptures must begin and end with his own touch. This belief was instilled in him even before art school, when he worked as a cabinet maker in Romania. In school, he then became proficient at woodworking and making models from clay and plaster. For one month after school, he also worked in the studio of Rodin, but he left because he preferred his own method of direct carving to the method Rodin employed. This belief in hands on work became a hallmark of his career, guiding him to work in series so he could create slight variations on his themes, with each new version expressing nuanced evolutions thanks to the intimate workings of his hands.

Constantin Brâncuși - Bird in Space, 1941. Bronze 6' (182.9 cm) high, on two-part stone pedestal 17 3/8" (44.1 cm) high. Gift of Mr. and Mrs. William A. M. Burden. MoMA Collection. © Succession Brancusi - All rights reserved (ARS) 2018.
During his court case against the United States, Brâncuși evoked his laborious method as the ultimate evidence that he was an artist, and that "Bird in Space," whether it fit any official description or not, was therefore a work of art. He told the judge that although the piece was poured by a founder, he had carved the original plaster cast for it by hand. Furthermore, after the work was cast he sanded out all of its holes and various flaws. Said Brâncuși, "All this I did myself, by hand; this artistic finishing takes a very long time and is equivalent to beginning the whole work over again...the subject of the bronze was my own special creation and nobody but myself could have carried it out to my satisfaction." This material connection to the work is crucial to the delicate beauty that each work in the "Bird in Space" series possesses. It is a key element to everything Brâncuși did, and was eventually even what helped convince the United States government to agree with Brâncuși that abstract sculpture is art.
Featured image: Constantin Brâncuși - Bird in Space, 1932–40. Polished brass. 59 7/16 inches (151 cm) high, including base. The Solomon R. Guggenheim Foundation Peggy Guggenheim Collection, Venice, 1976. © 2018 Artists Rights Society (ARS), New York/ADAGP, Paris.
All images used for illustrative purposes only
By Phillip Barcio