Blog Home
7 Books on Female Abstract Artists To Read While in Self-Isolation
Mar 18, 2020
In times like this I consider myself lucky. I obsessively acquire art books from exhibitions and estate sales, so even when cooped up inside for weeks, or months, I at least have plenty to read. My shelves hold dozens of books on female abstract artists, including books about Jessica Stockholder, Clare Rojas, Alma Thomas, Georgia O'Keeffe, Hilla Rebay, Lee Krasner, Mary Heilmann, Lee Kyong, Elaine de Kooning, Louise Bourgeois, Hedda Sterne, Eva Hesse, Louise Nevelson, and others. Unlike the brief articles and social media posts that make up the majority of contemporary art reading, these often-hefty tomes offer deep dives, creating much needed context, and increasing my frequently insufficient visual literacy. I particularly love books in which artists describe their own work, such as Artists Sessions at Studio 35—a pocketbook packed with personal insights shared during a three-day conversation between 25 artists in 1950. My personal favorite from this genre is a collection of frank interviews called American Artists on Art From 1940 to 1980. In one interview in the book, Helen Frankenthaler responds to a question about whether nature is part of her work by saying, "nature associations are used as a handle, held on to people who want a clue as to how to read the surface of an abstract picture. That is their problem whether nature is in it or not." In another interview, Eva Hesse responds to a question about the alleged circle motif in her work, saying, "I think the circle is very abstract," but, she says, "I could make up stories about what the circle means to men." If, like me, you find such insights humorous, helpful, inspiring, and even profound, here are seven other books on female abstract artists that might help make your time spent alone a little less lonely.
Hilma af Klint: Paintings for the Future
Hilma af Klint created an extraordinary volume of paintings, drawings and writings in her half-century long career. Yet, she refused to allow her work to be shown until 20 years after her death, and prohibited the work from being sold. The recent blockbuster retrospective Hilma af Klint: Paintings for the Future at the Guggenheim Museum in New York made it clear to an adoring public how ahead of her time Klint truly was. The hard cover catalogue published to accompany that exhibition is part time capsule, and part timeless treasure. Supposedly, it looks back at the work of an artist from the distant past. Yet, I feel this work belongs to a time that has not yet arrived.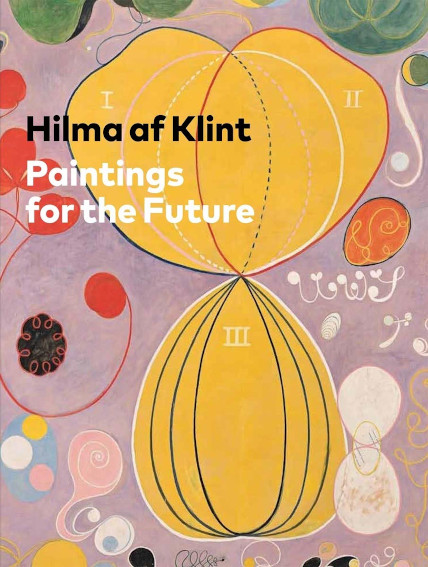 Hilma af Klint: Paintings for the Future, by Tracey Bashkoff, 2018.
Julie Mehretu
In my opinion, Julie Mehretu—more than any other contemporary artist—captures both the anxiety-inducing chaos and awe-inspiring wonder of our interconnected present. Her paintings open up worlds in which shape, color and line transform almost mystically into emotion and sensation. Published on the occasion of her current mid-career retrospective at the Whitney Museum of American Art, this eponymous monograph will delight existing fans, and bring newcomers up to speed on a true visionary of contemporary abstract art.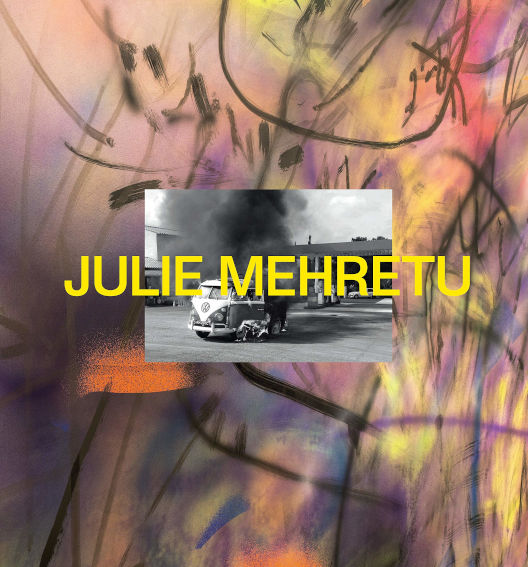 Julie Mehretu, by Christine Y. Kim and Rujeko Hockley, 2019.
Ninth Street Women
Exhaustively researched, yet approachably written by Mary Gabriel, Ninth Street Women provides in depth examinations of the careers of five influential, 20th century female painters—Lee Krasner, Elaine de Kooning, Grace Hartigan, Joan Mitchell, and Helen Frankenthaler. It also convincingly destroys the fictional narrative that the development of Modern Art was shaped by men. Exposing the complicated social circumstances that led to the development of Abstract Expressionism and various other 20th century art movements, the text lays out the intellectual and artistic prowess of these, and several other, marginalized artists, while revealing the social biases that often scuttled their market presence and professional progress. Though things are improving, this book reminds us of the many subtle (and not subtle) ways that underrepresented artists still tread a fraught path today.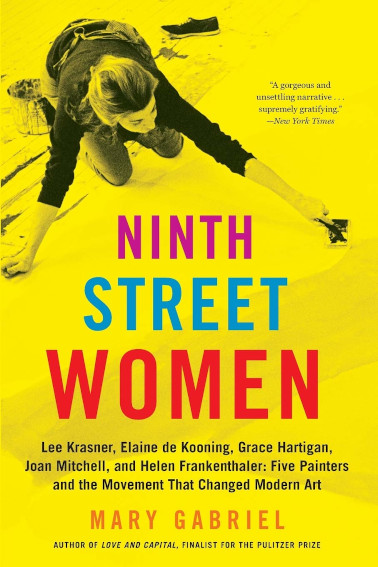 Ninth Street Women: Lee Krasner, Elaine de Kooning, Grace Hartigan, Joan Mitchell, and Helen Frankenthaler: Five Painters and the Movement That Changed Modern Art, by Mary Gabriel, 2019.
Lee Krasner
Not nearly as exhaustive as (but far less expensive than) the Lee Krasner catalogue raisonné published in 1995 by Harry N. Abrams, this comprehensive monograph includes 250 color plates, offering a plentiful overview of the career of one of the most poetic and idiosyncratic abstract artists America has ever produced. Published by Thames & Hudson on the occasion of a major retrospective at the Barbican Gallery in London, Lee Krasner shows how Krasner relentlessly evolved her visual language over time, directly challenging the contemporary bias towards youth by demonstrating how Krasner reached her artistic apex late in life, long after walking away from the so-called avant garde.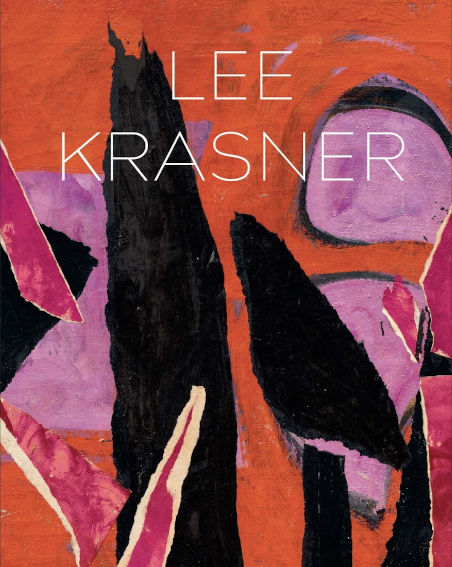 Lee-Krasner, by Eleanor Nairne, 2019.
Elaine de Kooning: Portraits
Several books about Elaine de Kooning, unfortunately, focus more on personal anecdotes than her unique contribution to the art field. The elegantly produced monograph Elaine de Kooning: Portraits, by Prestel Publishing, properly examines her artistic method by focusing on the extraordinary body of portraits she produced. This aspect of her oeuvre helped define, to a great degree, the amorphous realm in which contemporary figuration now happily intermingles with the theories and concepts of abstraction.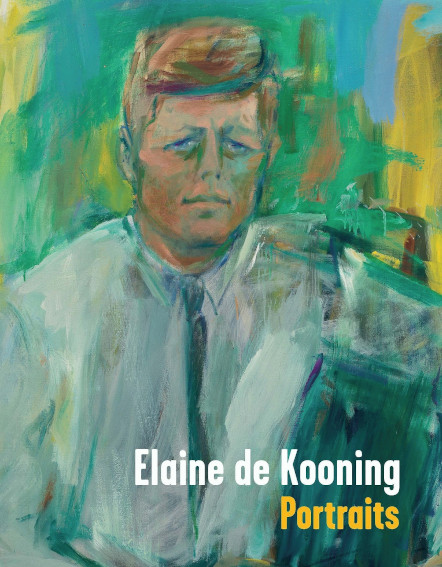 Elaine de Kooning: Portraits, by Brandon Brame Fortune, 2015.
Joan Mitchell: I carry my landscapes around with me
More than most artists, and most humans in general, Joan Mitchell embraced intuition and feeling as her guiding principals. She once said, "It never occurred to me to invent. All I wanted to do was paint." Her individualism and confidence shines through in her canvases, which is perhaps why at least a dozen books have been published about her work.Joan Mitchell: I carry my landscapes around with me may not be the most comprehensive, but it has wonderful photographs and a tight focus on one specific aspect of her work: her large-scale, multi-panel paintings.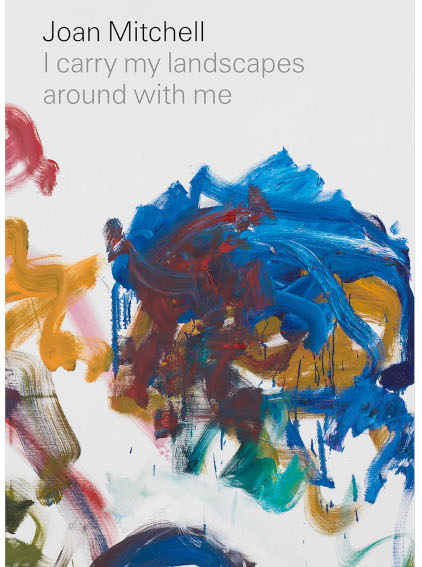 Joan Mitchell: I carry my landscapes around with me, by Joan Mitchell, 2020.
Anni Albers
One of the smartest, and most technically competent artists the world has ever known, Anni Albers enjoyed a prolific abstract art career, conquered the commercial design world, and created an unparalleled body of writings that helped shape contemporary art education. The wisdom of her perspective is matched only by the eloquence with which she communicated it. Published as an exhibition companion for the eponymous 2018 Tate Modern retrospective, Anni Albers traces her career from her roots as a groundbreaking student—and teacher—at the Bauhaus; through her contribution to the Black Mountain College in the 1930s and 40s; through her 1949 solo exhibition at MoMA (the first for a textile artist); elucidating all aspects of her brilliant and life-long accomplishments as a multi-disciplinary studio artist.
Featured image: Anni Albers, by Ann Coxon, Briony Fer and Maria Müller-Schareck, 2018.
All images used for illustrative purposes only
By Phillip Barcio