Blog Home
An Abstract Homage to Walt Disney, Courtesy Bertrand Lavier
Apr 1, 2018
A small selection of works by French artist Bertrand Lavier is the subject of the latest exhibition at the 60-square meter London location of the Paris-based Kamel Mennour gallery. Titled Walt Disney Productions, this boutique exhibition features a lighthearted and eye-catching selection of works from a series Lavier began working on in 1984, based on a Disney comic strip from 1977. The comic strip was called "Traits Très Abstraits" (Very Abstract Lines), and subtitled "Mickey et le Voleur Artiste" (Mickey and the Artistic Thief). Published in issue #1279 of the Mickey Journal, it told the story of Mickey and Minnie Mouse going on a trip to a museum of modern art. While touring the museum, Mickey helps foil an art heist. The story was illustrated by the award-winning Italian comic artist Sergio Asteriti. Born in 1930, Asteriti earned his art degree in 1952 and was intent on a career in advertising. Instead, he became a successful comic illustrator, eventually working for Disney. In "Mickey and the Artistic Thief", Asteriti got a chance to put his fine art education to work by filling the modern art museum in the comic strip with imaginary paintings and sculptures. None of the works in the comic museum are based on anything specific. They all sprang from the mind of Asteriti. Nonetheless, they convey a remarkable range of Modernist idioms. Biomorphic sculptures intermingle with Geometric Abstract compositions, Minimalist paintings, haunting Surrealist pieces and Abstract Expressionist paintings. When Bertrand Lavier first saw this comic strip, he became fascinated by these cartoon artworks. Though they were secondary to the plot, Lavier saw in them an expression of the underlying reality of Modernist Abstraction. He set his mind to reproducing them, transforming them from background images into serious works of fine art, worthy of their own consideration.
The Ambiguities of Reality
Lavier has been investigating the nature of how people interact with everyday objects since beginning his art career in the early 1970s. In an early series of works, he covered various ordinary objects, such as refrigerators and cars, with thick layers of paint. He chose the same color paint as that which was originally used to color the object. These objects were all still completely functional as whatever they were intended to be, they were just covered in an additional layer of pigment. By painting them and then placing them in an art gallery or museum, he was simply messing with context—confusing their intended functionality with their ability to also function as something purely aesthetic. Is a refrigerator covered in paint technically a painting? Or if it is placed on a pedestal, is it a sculpture? When does a material or an object stop being what it previously was and start to become art? Is art more than just context?
Lavier extended this line of questioning further when he began placing his painted objects on top of one another. Once, he placed a painted refrigerator on top of a painted safe. The refrigerator became less functional, because it was elevated too high for anyone to use it. The safe was still functional as a safe since it sat on the floor. The safe also, in essence, adopted a second functionality: it became a pedestal for the refrigerator—a theoretical protector of the academic and cultural significance of the object it supported. In a way, these experiments continue the lines of questioning initiated by artists like Marcel Duchamp and Robert Rauschenberg, who constructed Readymades and contemplated the value and meaning of found objects. They question the ambiguous nature of things, and they ask about relationships: how materials and objects change when they are brought together in unexpected ways.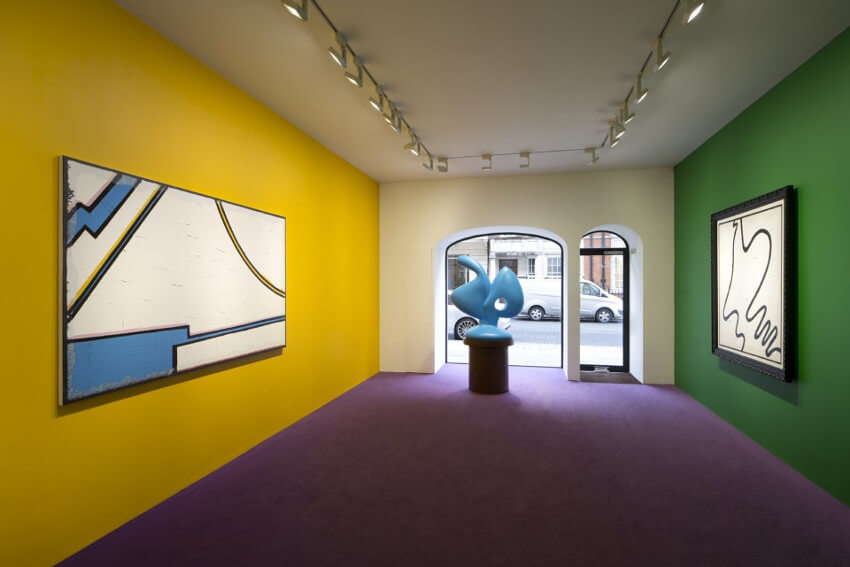 Bertrand Lavier - View of the exhibition Walt Disney Productions, kamel mennour, London, 2018 © ADAGP Bertrand Lavier, Courtesy the artist and kamel mennour, Paris/London
Finer Than Fiction
The objects on view in Walt Disney Productions add several conceptual layers to the main ideas with which Lavier is working. By manifesting into reality a series of artworks that were first drawn in the background of a comic strip, he raises the topics of appropriation and authorship. He also re-frames questions asked by artists like Picasso, Picabia and Lichtenstein, about whether banal media images can be elevated to the status of fine art. What is most interesting to me about this body of work is the way Lavier flips the nature of abstraction and figuration. Usually, an object exists in the real world and then an artist copies it, thus creating a sort of abstract replication of something concrete. In this case, Lavier made a series of figurative real world objects out of a series of imaginary approximations of what a cartoon illustrator believed typical comic book readers would recognize as abstract art. They are figurative manifestations of conceptual drawings of the trope of abstraction.
Are these objects featured in Walt Disney Productions thus figurative or abstract? It is impossible to decide, a fact which brings back to mind the original question Lavier asked with his painted refrigerators, about whether academic concepts of fine art ultimately depend purely on context. The mundanities of daily living are so often geared toward training people to believe in separations. We separate ourselves from others based on context and perception; we separate work from play, art from design, low art from high art, the body from the mind, abstraction from figuration, and so on. These paintings and sculptures, transposed from the pages of a comic strip and brought into existence in physical space, have a unifying quality to them. They are the answer to a universal question—the ultimate reality Lavier exposed with them is that every object and every image can accommodate multiple identities, just like each of us. Bertrand Lavier: Walt Disney Productions is on view at Kamel Mennour gallery, 51 Brook Street, London, through 7 April 2018.
Featured image: Bertrand Lavier - View of the exhibition Walt Disney Productions, kamel mennour, London, 2018 © ADAGP Bertrand Lavier, Courtesy the artist and kamel mennour, Paris/London
By Phillip Barcio