Blog Home
Why Ben Heller Was a Powerful Figure for Abstract Art
May 17, 2019
Ben Heller, one of the giants of 20th Century art, has passed away at age 93. Heller was not an artist—he was a businessman who made a relatively modest living in the textile industry. It is what he did with what little money he could afford to invest that made him an art world legend. He was amongst the first collectors to invest in the works of the Abstract Expressionists. Ironically, Heller was afraid at first to collect art by young artists. His first major purchase was of a small work by Goerges Braque, because he wanted to own a "major work" by someone established. A chance encounter with Jackson Pollock while visiting East Hampton changed his perspective. Heller ended up befriending Pollock and his wife Lee Krasner. During a visit to their East Hampton home, he was immediately moved by the paintings he saw. He asked Pollock if he would part with one of the works—"Number 31, 1950"—and Pollock said he would. Later, Heller, Pollock and Krasner were sitting in the grass watching the sunset and Pollock, who was sober at the time, spoke about how at peace he felt, like he was one with nature. He decided "One" should be the sub-title of the painting Heller bought. The price Heller paid for the painting was $8,000—a hefty sum for the time. He then paid $3,500 more for a second painting, titled "Echo." Pollock threw in a third, "No. 6, 1952," for free. Heller soon realized that living with these contemporary works was wonderful, and started collecting works by a whole range of contemporary artists, especially other Abstract Expressionists. Little did Heller know that in less than two decades his rather innocent foray into contemporary art would make him one of the most famous collectors in the world, and turn that Braque into one of the least valuable works in his collection.
The Australian Controversy
Heller and Pollock became so close that Krasner once remarked that her husband considered Heller to be his closest friend. A year after Pollock died, Heller purchased the massive "Blue Poles" (1952) for the considerable sum of $32,000. Heller installed the painting in his home and he and his wife and children lived with it for nearly two decades. They shared meals and took phone calls next to it. Friends of the kids threw frisbees around it, without Heller ever getting upset. The painting was such a ubiquitous part of their home life that the family was shocked when Heller announced in 1973 that he was going to sell the painting to The National Gallery of Australia for a then record breaking sum of $2 Million (US). In a 2015 interview with ABC News, daughter Patti Adler recalled, "Nothing pained us worse than Blue Poles leaving the house. We all assembled in the living room and we went around the room and everybody had a chance to say how they felt about it, how they felt about living with it and how they felt about it leaving."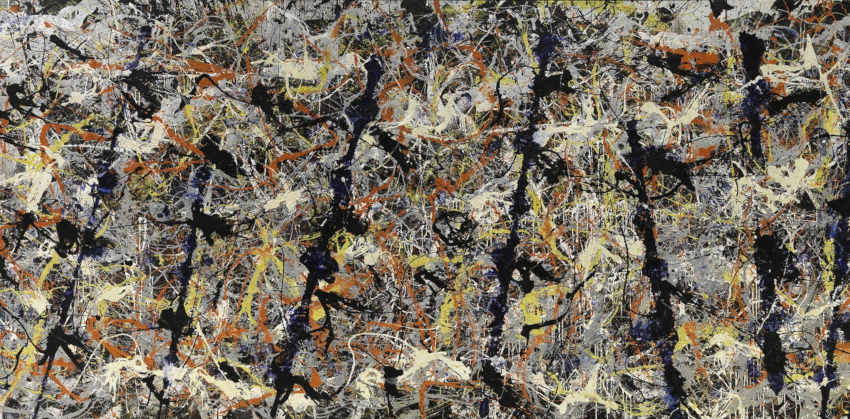 Jackson Pollock - Blue Poles, 1952. Oil, enamel, aluminium paint, glass on canvas. 212.1 x 488.9 cm. National Gallery of Australia, Canberra. Purchased 1973. © Pollock-Krasner Foundation/ARS
The sale not only pained the Heller family, it shocked the nation of Australia, and angered many Americans as well. James Mollison, director of the NGA at the time, had to ask Prime Minister Gough Whitlam to approve the purchase because of the excessive price tag. The Prime Minister was almost universally derided for granting the expenditure, not only because of the historic price point but because it was being paid for an abstract painting, and furthermore, one made by an American. Americans were outraged because they felt their heritage was being given away to a foreign nation. Yet, Heller simply stated that he thought the sale was a good idea because it would allow more people to be able to enjoy the painting, and would increase international awareness of American abstract art. Today, Australians see "Blue Poles" as a beloved national treasure. It has turned out to be a fine investment as well, with a current estimated value around $350 million (US).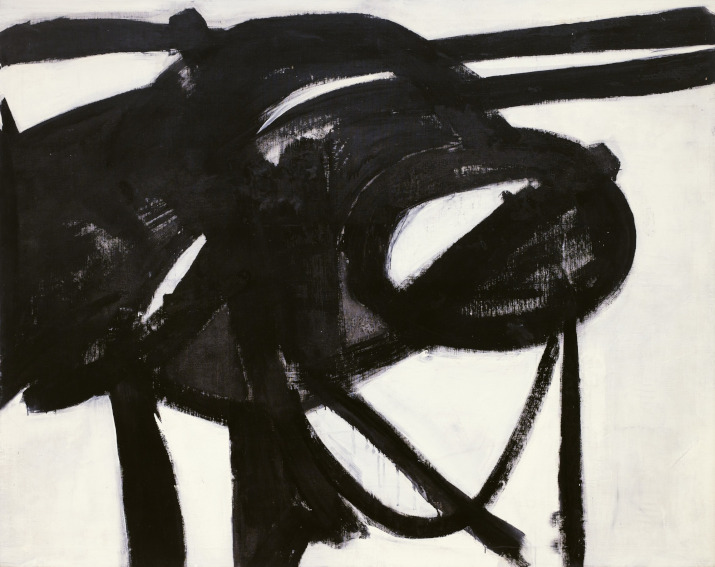 Franz Kline - Chief, 1950. Oil on canvas. 58 3/8" x 6' 1 1/2" (148.3 x 186.7 cm). Gift of Mr. and Mrs. David M. Solinger. MoMA Collection. © 2019 The Franz Kline Estate / Artists Rights Society (ARS), New York
The Heller Effect
In addition to works by Pollock, Heller collected abstract paintings by Mark Rothko, Clyfford Still, Willem de Kooning, Adolph Gottleib, Franz Kline, Robert Motherwell, Barnett Newman, and many other mid-century legends. He eventually donated many of the works to various beloved cultural institutions. When you go to MoMA, for example, and admire the vibrant fields of red and sublime "zips," of "Vir Heroicus Sublimis" (1950) by Barnett Newman, you might notice that it was a gift to the museum from Mr. and Mrs. Ben Heller. Or if you visit the Clyfford Still Museum in Denver, Colorado, you might see similar dedications, and even note that it was Heller who initially brought it to the attention of art lovers after Still died that his estate was not properly settled, and helped lead the effort that eventually culminated in that museum.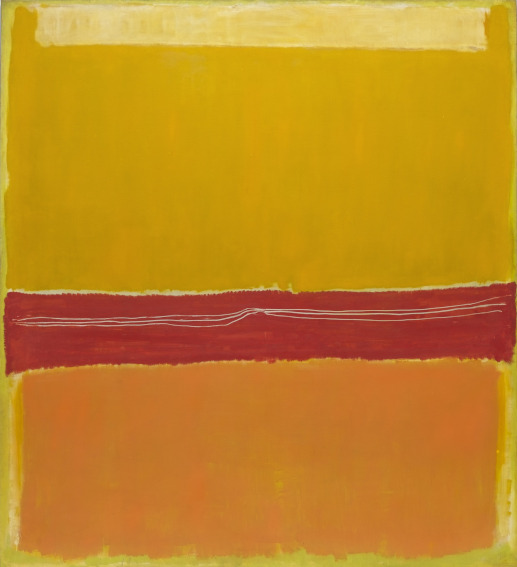 Mark Rothko - No. 5/No. 22, 1950 (dated on reverse 1949). Oil on canvas. 9' 9" x 8' 11 1/8" (297 x 272 cm). Gift of the artist. MoMA Collection. © 1998 Kate Rothko Prizel & Christopher Rothko / Artists Rights Society (ARS), New York
Nonetheless, aside form the fun of imagining Heller and his family nonchalantly passing the time in the company of scores of masterpieces in the various apartments they occupied in Upper Manhattan over the years, I cannot help but also ask one challenging question: why were so many of the works Heller collected made by white men? If that had been a Lee Krasner painting, or a Norman Lewis painting, that Heller sold to the NGA back in 1973, what effect would that have had on the development of the contemporary art market? Undoubtably Heller, like all of us, simply bought what he liked based on what he saw. Yet, as we now look back and wonder why women and artists of color are so often diminished, we should keep the example of Heller in mind. It is not just art dealers and curators who determine which artists have a seat at the table. Heller is a monumental example not only of how collectors can offer real material support for the artists of their generation, but also of the power even one collector can have to shape the culture.
Featured image: Jackson Pollock - Echo: Number 25, 1951 Enamel paint on canvas. 7' 7 7/8" x 7' 2" (233.4 x 218.4 cm). Acquired through the Lillie P. Bliss Bequest (by exchange) and the Mr. and Mrs. David Rockefeller Fund. Conservation was made possible by the Bank of America Art Conservation Project. MoMA Collection. © 2019 Pollock-Krasner Foundation / Artists Rights Society (ARS), New York.
All images used for illustrative purposes only
By Phillip Barcio