Blog Home
Two New Abstract Artworks Revealed as Part of Art Mapping Piemonte
Nov 11, 2020
Culture. People. Planet. Those are the three goals of Fondazione Compagnia di San Paolo (FCSP), the philanthropic organization that recently partnered with the Piedmont Region of Northern Italy to create a new art and culture guide called Art Mapping Piemonte. The Piedmont city of Turin—the first capital of the newly reunited Italy in the middle 19th Century—is already filled with enough public sculptures to make it one of the most art filled cities in Italy. And as any epicurean knows, the Piedmont region is also a legendary wine producing region: home to such heavy hitting DOCs as Barolo, Gattinara, Kavi, Barbera d'Alba, Langhe and Gabiano. Ostensibly, the Art Mapping Piemonte guide simply exploits these two facts, letting visitors to the region know where they can find exceptional works of public art, along with advice about nearby restaurants and vineyards where they can find delightful refreshments to complement their aesthetic outing. But the true reach of the project goes far beyond helping tourists spend a pleasant day outdoors. The guide is an expression of the longstanding tradition in Italy of seeking out meaningful ways for art to intersect with everyday life. Art Mapping Piemonte is further more as much about creating a culture as it is about enjoying one. Along with mapping important existing artworks, the project funds the development and installation of new public works of art, proving that contemporary art is as important to the local culture as preserving the works of the past. Here, we preview three of the latest site-specific works realized by the project: a piece by Italian conceptual artist Mario Airò, and works by two renowned abstract artists: the Swiss-born artist Olivier Mosset, whom we have previously interviewed on IdeelArt, and the Italian artist Roberto Coda Zabetta.
Olivier Mosset, "Griglie d'oro, Torre dell'acqua, Novello" (2020)
Known for his fierce, minimal language of forms, Olivier Mosset was a founding a member of the radical art group BMPT (with Daniel Buren, Michel Parmentier, and Niele Toroni). His works have their own logic, and Mosset is a believer that all of the meaning in an artwork is experienced when you see it. You have to deal with a Mosset work on your own terms, in person, in real time and space, and the work he debuted this November for Art Mapping Piemonte is a perfectly simple expression of this idea. The work is not a sculpture or a painting, but an intervention with a water tower in Novello. The water tower overlooks Barolo vineyards, and Mosset transformed the tower by painting its crown and its safety railings gold. The gold paint accentuates existing aspects of the structure, causing it to glow from a distance, like a beacon. The work changes according to the shifting position of the sun or other atmospheric conditions, causing every interaction with it to be unique.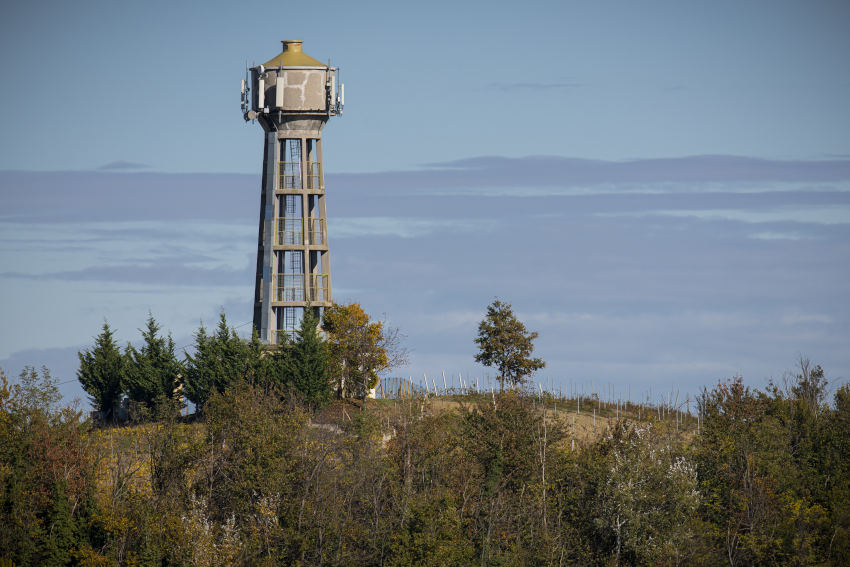 Olivier Mosset, Griglie d'oro, Torre dell'acqua, Novello, 2020. Photo: Giorgio Perottino
Roberto Coda Zabetta, "CNTR" (2020)
In 2017, Roberto Coda Zabetta created a monumental abstract painting as part of a temporary public art installation on a rooftop in Naples. After the work concluded, Zabetta held on to the worn and weathered canvas, which has been given new life as "CNTR," an outdoor installation unveiled this November at the Mondodelvino Wine Experience, a multimedia wine museum in Priocca. Zabetta shredded his giant canvas into vertical sections, and hung the pieces to create a massive curtain that lines an outer wall of the museum. The vibrant colors of the canvas shift constantly in the changing sunlight, while the rough hewn sheets of canvas undulate in the breeze. A living, and ever-changing work, "CNTR" poetically evokes the constant forces of rebirth inherent in the production of wine.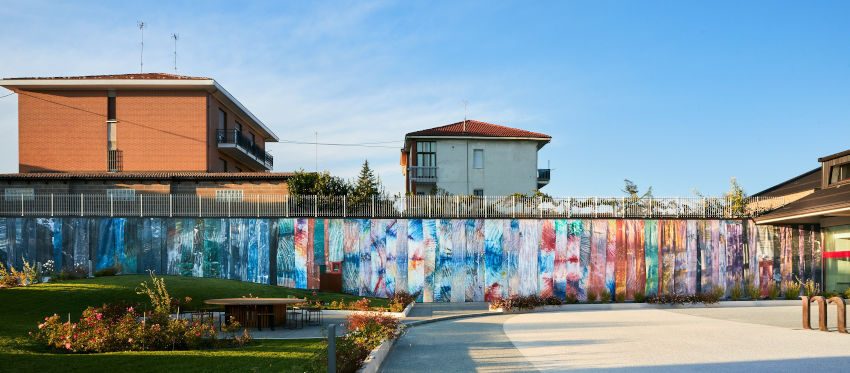 Roberto Coda Zabetta, CNTR - Project for Mondodelvino, 2020. Courtesy Annet Gelink Gallery Amsterdam. Photo: Henrik Blomqvist
Mario Airò, "The Elegy of Whiteness" (2019)
Mario Airò combines cultural references with aesthetic formalism to create poetic objects that resist conclusive interpretation. In 2019, Airò created an installation in the Benedictine church of San Remigio in Parodi, a decommissioned sanctuary that has been transformed into an art exhibition space. The installation features a copy of the book "The Elegy of Whiteness," by Korean writer Han Kang—which in English is simply known as "The White Book." The book has been covered in white sea snails, which seem to have perhaps emerged from a nearby font of holy water. Like the book it is based on, the sculpture considers the notion of whiteness as both a cultural construct, an aesthetic mechanism, and as a symbol of spiritual purity. Its presence in a former church cannot help but raise questions about the enduring context of architecture, and the meanings inherent in site specific art.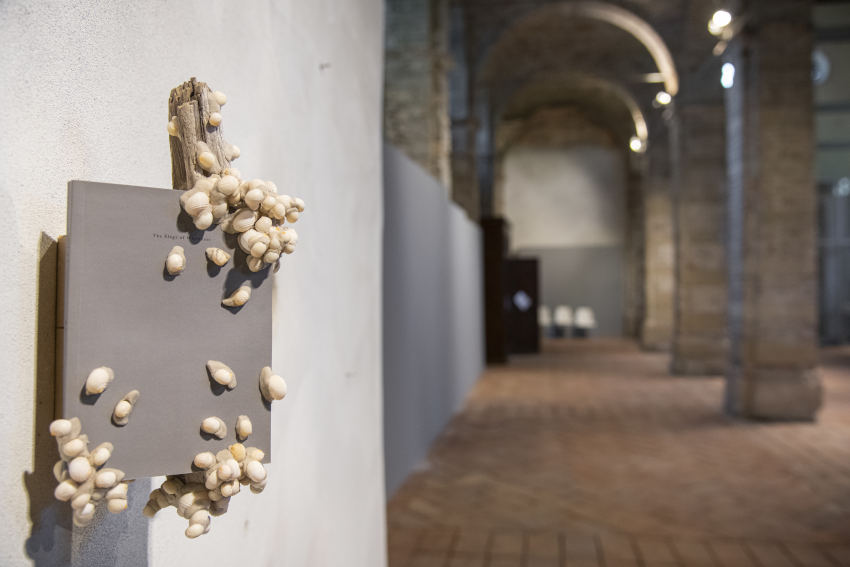 Mario Airò, The elegy of whiteness, 2018, libro, lumache di mare, sabbia di quarzo, resina acrilica, legno di mare, legno, 32 × 24 × 16 cm, Chiesa di San Remigio, Parodi Ligure, 2020. Photo: Giorgio Perottino


In addition to these works, there are dozens of other abstract public works listed in Art Mapping Piemonte. An installation by the Italian artist Mario Merz (1925 - 2003) of a lighted Fibonacci sequence—the mathematical equation that represents the aesthetic concept known as the Golden Ratio—can be found on a tower in the inner courtyard of Fondazione Merz in Borgo San Paolo. Nearby, "Punti di vista," three symbolic brass towers by British artist Tony Cragg, memorialize the 2006 Torino Olympics. Located in a park in the Mirafiori Nord district, a habitable sculpture by the British artist Lucy Orta called "Totipotent Architecture" echoes the form of stem cells. In the communal entrance of the Porta Palazzo condominium building, visitors will find "Ordine e disordine," a ceiling installation of blue tiles by the Italian abstract painter Giorgio Griffa. Meanwhile, another piece by Mario Airò—this one an illuminated, curvilinear metal sculpture suggestive of a rainbow—inhabits the ceiling of the Via Baltea 3 community center in downtown Torino. All of these works and more are listed in Art Mapping Piemonte, but even if traveling to Italy is impossible for now, we can still take inspiration from a community dedicated to celebrating the ways abstract art intersects with everyday life.


Featured image: Roberto Coda Zabetta, CNTR - Project for Mondodelvino, 2020. Courtesy Annet Gelink Gallery Amsterdam. Photo: Henrik Blomqvist
All images used for illustrative purposes only
By Phillip Barcio