Blog Home
Agnes Pelton, The Unsung Visionary Painter of the Sublime
Dec 31, 2019
A two-year, traveling retrospective of the work of Agnes Pelton will soon open at the Whitney Museum of American Art, re-introducing contemporary New Yorkers to an esoteric abstract artist who once lived among them—one whose work is steeped in ancient mysticism and spirituality. The first Pelton exhibition in a generation, Agnes Pelton: Desert Transcendentalist offers a rare chance to contemplate the radical creativity of this esoteric artist in context with the concerns of our perhaps not-so-different time. Those already familiar with her work already know that much of the work Pelton made was actually far from mystical. Her oeuvre included a large number of realistic portraits and landscapes she painted mostly for practice and to make ends meet. For this exhibition, however, curator Gilbert Vicario focused on what Pelton considered her most important works: her "transcendental abstractions," mystical paintings that evoke the connective tissues Pelton believed exist between humans, nature and the divine. Pelton was not a member of any particular organized religion, nor did she believe that she had any concrete answers to offer humanity when it came to understanding the mysteries of the divine. She was simply a believer in things of the spirit. Pelton hoped her transcendental abstractions could offer viewers a glimpse of "perfect consciousness and divine reality" through which they could discover their own connections with the mystic side of life.
The Transcendental Painting Group
Born in Germany to American parents, Pelton lost her father when she was just nine years old, to a morphine overdose. Raised afterwards by her now single mother in Brooklyn, Pelton was taught to be self-sufficient and to revel in art and music. She earned her art degree at the Pratt Institute, studying under Arthur Wesley Dow, who also taught Georgia O'Keeffe. Dow was famous for instilling in his students an emphasis on imaginative visions and interior values rather than exterior reality. Along with her interest in art, Pelton was also an earlier follower of a Theosophical doctrine that emerged in the 1920s called Agni Yoga. A Hindu deity, Agni is believed to manifest on earth as fire, in the atmosphere as lightning, and in the sky as the sun. Agni Yoga is a daily life practice during which the practitioner attempts to strive as an individual towards the evolution of planetary consciousness—a larger planetary union that transcends human bodies and beings. Fire and light, two frequent subjects for Pelton, are common artistic representations of the power of Agni as it manifests in the material world.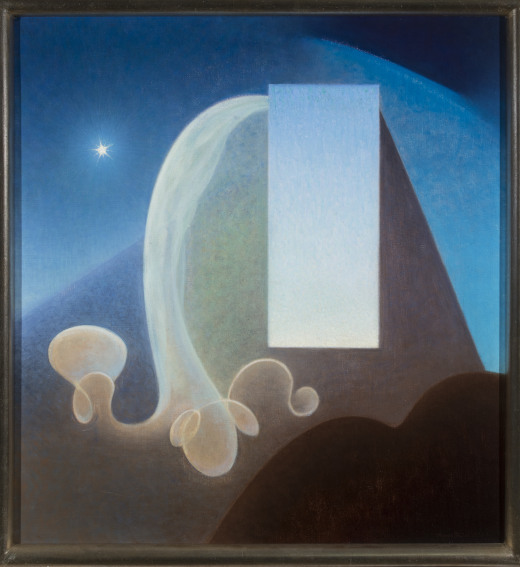 Agnes Pelton - Day, 1935. Oil on canvas. Collection of Phoenix Art Museum; Gift of The Melody S. Robidoux Foundation.
Pelton started painting her transcendental abstractions, the body of work that is being celebrated in Agnes Pelton: Desert Transcendentalist, around 1926. While still in the early stages of this new artistic direction she traveled extensively, eventually arriving in a sparsely populated town outside of Palm Springs, California, called Cathedral City. With a population at that time of only about 100 people, the town offered pristine, uninterrupted views of the desert and sky. Pelton was inspired by the magical light of this place and ended up moving permanently to the area. While there, she co-founded and became the first president of the Transcendental Painting Group (TPG), an artist collective comprised mostly of New Mexico-based Modernist painters, who believed, as their manifesto professed, that "Art is the manifestation of the coming synthesis" that "will unify all humanity." Rather than simply painting their beautiful surroundings, TPG members were dedicated to exploring the universal force that resides within people and nature, which is so evident, they believed, in the almost mystical desert light.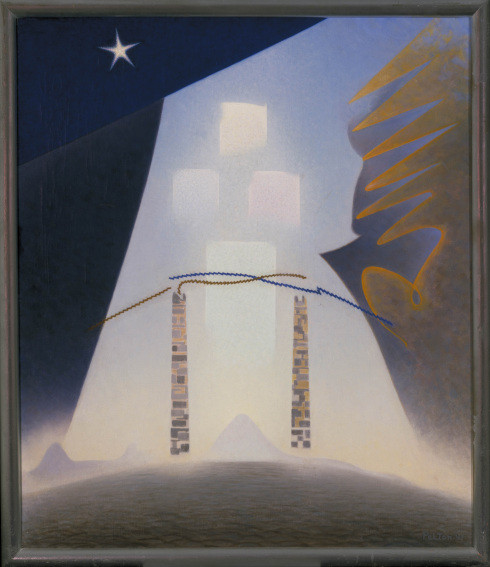 Agnes Pelton - Future, 1941. Oil on canvas. Collection of Palm Springs Art Museum, 75 th Anniversary gift of Gerald E. Buck in memory of Bente Buck, Best Friend and Life Companion.
Esoteric Abstraction
The TPG only officially existed from about 1939 to 1945. They disbanded in part because many of the members moved on from the Southwestern United States, and in part perhaps because the very nature of what these artists were trying to achieve was rooted in esotericism—a strictly personal pursuit of spiritual development. The idiosyncratic aspect of their strivings also may help explain why the work of the various other members of the group—which included Emil Bisstram, Raymond Jonson, William Lumpkins and Florence Miller Pierce, among others—all looks so distinctive. Pelton, meanwhile, remained in her remote, desert home, where she continued to establish herself as a vital member of the community. By auctioning off some of her work she even helped establish the Desert Art Center, an art gallery in Cathedral City that acted as a sort of creative lightning rod for the many creative nomads who had by then relocated to the area.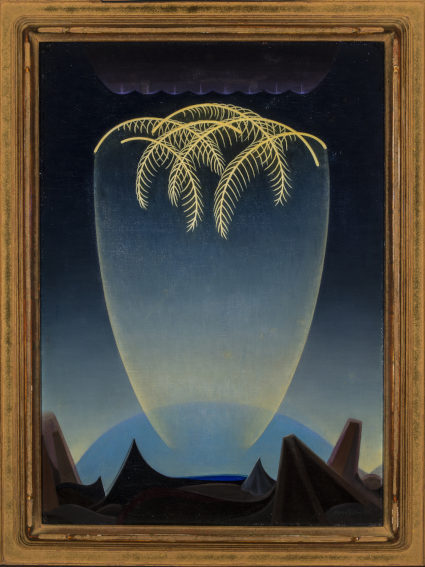 Agnes Pelton - Messengers, 1932. Oil on canvas. Collection of Phoenix Art Museum; Gift of The Melody S. Robidoux Foundation.
The current traveling Pelton retrospective is not the first attempt to revive interest in what this fascinating artist accomplished. A previous traveling exhibition organized by the Palm Springs Desert Museum sparked renewed interest in her work in 1995, helping to inspire a Symbolist revival evident in the Pop Surrealist movement of the late 1990s. Considering the timeless, universal message of her work, it is not difficult to imagine why every new generation seems to discover in it something of value. Yet, especially now, as more of us than ever are longing to do as Pelton did and escape the city, the politics, and the maddening forces of contemporary life, there is something distinctly hopeful for us in her work; something expressed particularly well in the following poem, which Pelton wrote to accompany her painting "Sand Storm" in 1932: "Dense clouds that push and loom Too early, darkening the day. Above the streaming palms Bent low to earth Sharp points of blowing sand converge Are poised beneath the sky's light blue In balanced conformation. Below this flowering, remote, serene Behold the movement luminous – A rainbow in the dust."
Agnes Pelton: Desert Transcendentalist originated at the Phoenix Art Museum in March 2019 and is currently on view at the New Mexico Museum of Art through 5 January 2020. After its Whitney appearance—13 March through 28 June 2020—it will travel to its final destination, the Palm Springs Art Museum in California, from 1 August through 29 November 2020.
Featured image: Agnes Pelton - Ahmi in Egypt, 1931. Collection of the Whitney Museum
All images used for illustrative purposes only
By Phillip Barcio