Blog Home
The Most Influential Living African American Abstract Artists
Jun 24, 2020
African American abstract artists - especially those descended from slaves - face continual pressure, from both inside and outside, to make their identity a central part of their work. This pressure makes sense considering the vast, systemic prejudices African American artists face, but it also means Black abstract artists intent on advancing their field not only face all of the same aesthetic, intellectual, and art historical questions faced by every other abstract artist, they also have to battle implicit biases regarding content. Back in 2017, following the opening of Soul of a Nation: Art in the Age of Black Power at the Tate Modern, an artist whose work was in that exhibition remarked to me privately about the William T. Williams painting "Trane" (1969), which was also in the show. "That painting," this person said, "has nothing to do with being Black." My white privilege prevented me from being in a position to make a judgment either way. All I could do is listen, and then express my own truth, which was that "Trane" is one of the most dynamic and exciting paintings I have ever seen. It embodies a similar electric, polyrhythmic sensitivity as the music of John Coltrane, after which it is named. Irrelevant though it may be, my opinion is that no matter who you are, the choice to make art that does not specifically address political concerns is itself a political act. African American artists are marginalized no matter what kind of work they make. To heap extra marginalization onto Black abstract artists feels like cruelty on top of cruelty. Artists do not need pressure about content. They need encouragement to express themselves honestly. I find it heroic for any artist to keep striving in the face of arbitrary criticism. With that in mind, though there are so many more who also deserve a spotlight, here are nine living African American abstract artists confidently moving the field forward, whose work has been influential to me.
Shinique Smith
Shinique Smith makes work that is playful, yet terrifying; corporeal, yet of the spirit; timeless, yet undeniably contemporary. Each of her compositions-be it a painting, a sculpture or an installation-feels as complex and self-contained as a willow tree or a swarm of bees. The work is unmistakably animated by gesture and line, but its gesticulations beyond the plane turn it into an expression of something multi-dimensional and organic. To me, the work perfectly encapsulates whatever nature and the city share.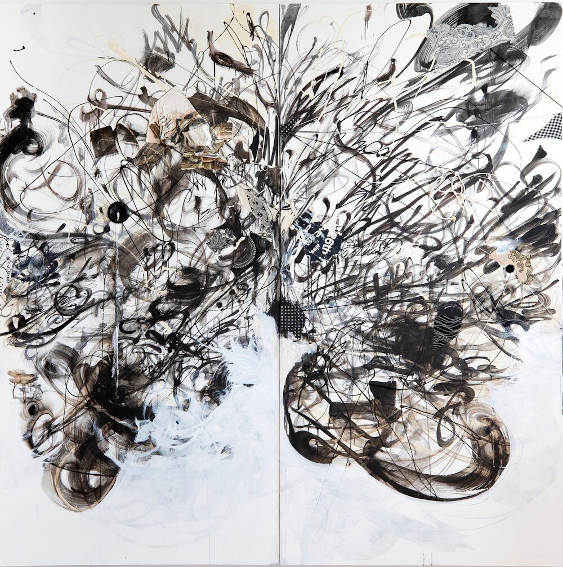 Shinique Smith - Codex, 2019. © Shinique Smith
Mary Lovelace O'Neal
Put simply, every Mary Lovelace O'Neal painting I see surprises me. O'Neal continually challenges what a painterly composition can be. Weight is the word that comes to mind when looking at her paintings: the weight she is able to give to light; or the weight she breathes into seemingly empty space. From her minimal, linear works to her globular, free-gestured explosions of color, time and again O'Neal demonstrates her willingness to test the limits of balance and harmony.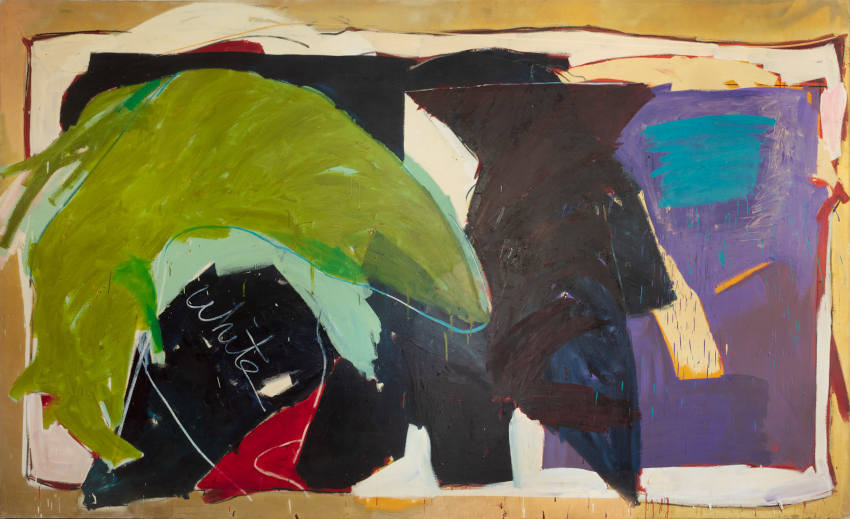 Mary Lovelace O'Neal - Beware of Chief Stewards Bearing Gifts of Fruit and Showers, 1982. Mixed media on canvas. 81 x 138 inches. © Mary Lovelace O'Neal. Photography Kija Lucas, courtesy of the artist.
Odili Donald Odita
Fractured space comes to mind whenever I see a painting by Odili Donald Odita. This Nigerian-born abstract painter, who emigrated with his family to Columbus, Ohio, as a child, has a masterful ability to position colors and shapes in conflict with each other on a flattened plane. The resulting relationships open up unsettling visual worlds of vibration and movement. Pulsating between the chaotic and the sublime, his paintings extend the long-sought legacy of dynamism that has concerned abstract artists at least since the days of Pointillism.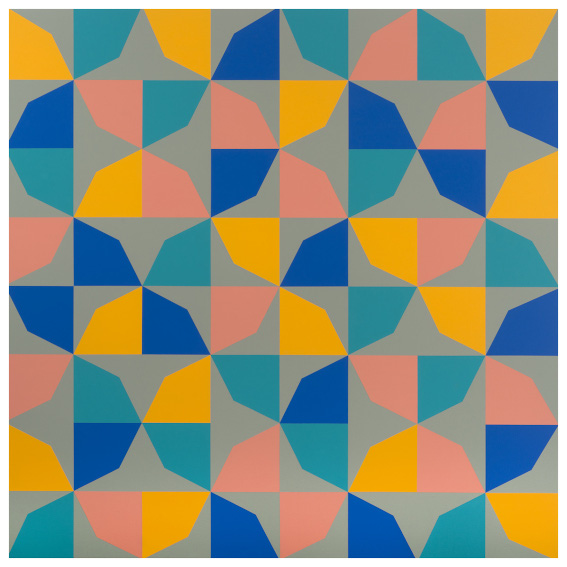 Odili Donald Odita - Phantom's Shadow, 2018. Acrylic on canvas. 50 x 50 1/5 in (127 x 127.5 cm). Stevenson. © Odili Donald Odita
Sam Gilliam
Sam Gilliam has been an iconic figure in the abstract art scene of Washington D.C. since the 1960s, when he first developed his signature method of pouring paint directly onto unstretched canvases, then bunching them up and draping them on the wall or from the ceiling. His paintings embody color and form, and express the timeless collaboration between choice and chance. Celestial and rhythmic, their transcendent character simultaneously hinges on earthly materialism and ephemeral spirituality.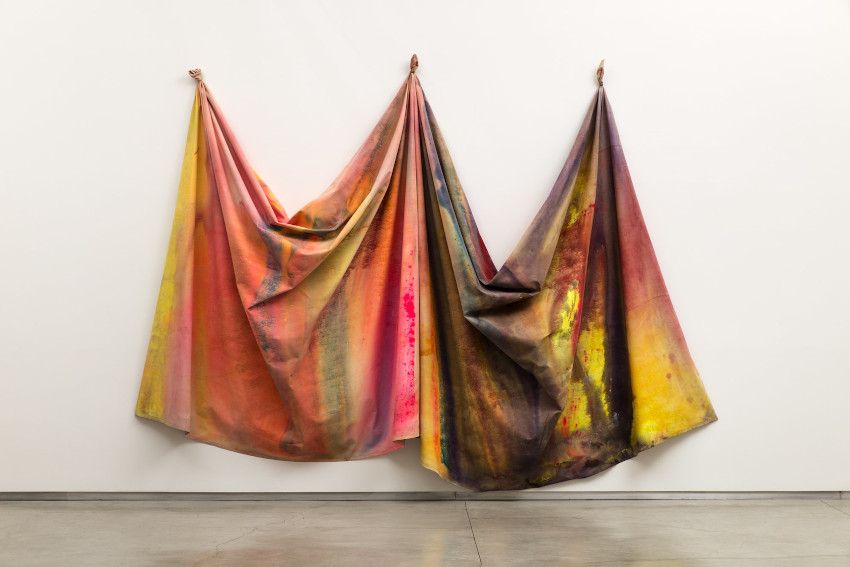 Sam Gilliam - 10/27/69, 1969. Acrylic on canvas, installation dimensions variable, approximate installation dimensions: 140 x 185 x 16 inches, (355.6 x 469.9 x 40.6 cm), Collection of The Museum of Modern Art, New York, NY, Courtesy of David Kordansky Gallery, Los Angeles, photography by Fredrik Nilsen Studio.
Jennie C. Jones
I have heard Jennie C. Jones called a Minimalist, perhaps because her visual language employs a lot of geometric shapes and solid color fields. However, I do not consider her work minimal. Quite the opposite: I consider it layered and multifaceted. The longer I look at her paintings, the more they reveal. Partly, this phenomena can be attributed to the fact that Jones lets no part of her objects be wasted-from the beveled or painted edges, to her careful consideration of how shadows are cast. She is a deft creator of aesthetic relics that open up worlds of perception that are nuanced and deep.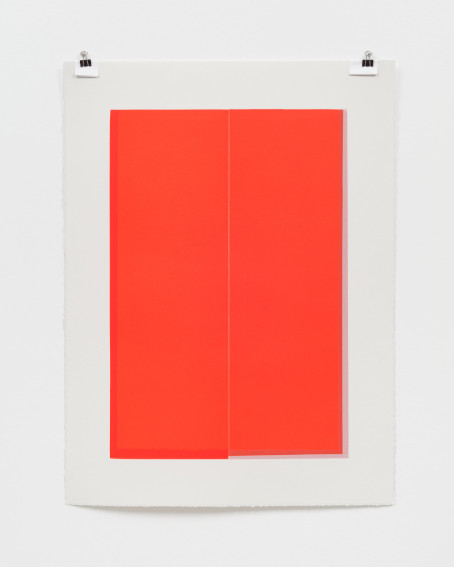 Jennie C. Jones - Constant Structure at The Arts Club of Chicago, March 19 - August, 2020. Image: Pierre Le Hors. © Jennie C. Jones
McArthur Binion
The first time I saw a McArthur Binion painting, I thought I was looking at a simple, Modernist grid. I nonetheless found it entrancing, even profound. As I got closer, I realized that embedded into the grid were snippets of what seemed to be pages from a journal. Another nearby grid painting was, upon closer inspection, composed of hundreds of tiny copies of a picture of a face. The face was that of the artist; the pages were from his address book. In the purest and most personal way, Binion inserts himself into the history of abstract art, and in doing so extends its legacy into a fresh, and heartfelt, space.
McArthur Binion - Hand:Work, 2018. Oil stick and paper on board. 72 x 48 x 2". © McArthur Binion
Stanley Whitney
Stanley Whitney reminds me of how essential humanity is to abstract art. Whatever humanism Modernism eradicated from abstraction in service to newness and/or perfection, Whitney infuses back into it. His imperfect, painterly grids embrace the oozing familiarity of color, and the luscious beauty of paint itself.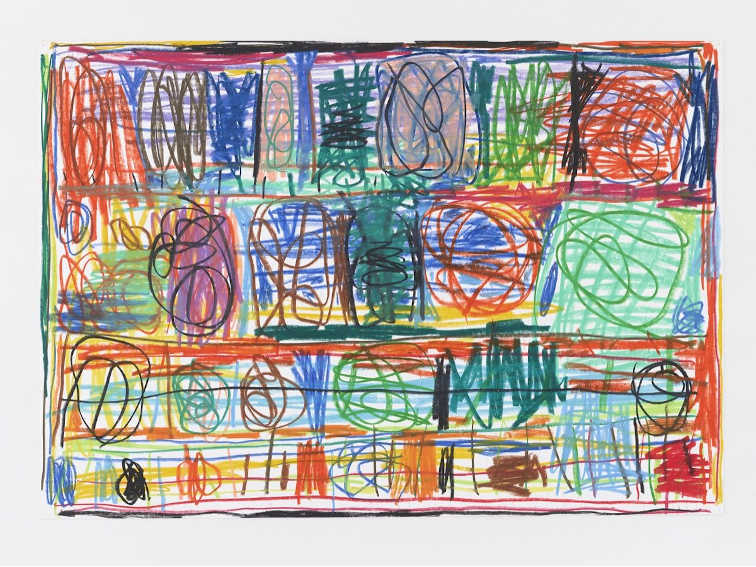 Stanley Whitney - Untitled, 2013. © Stanley Whitney. Courtesy of Lisson Gallery.
Frank Bowling
Frank Bowling creates paintings that hint at the worlds of meaning that lurk between color and texture. Embedded within his compositions are references to maps, often centering the continent of Africa. The formal, abstract elements nonetheless keep asserting themselves into the forefront-a subtle expression, and rejection, of the essential conflict every African American abstract artist faces.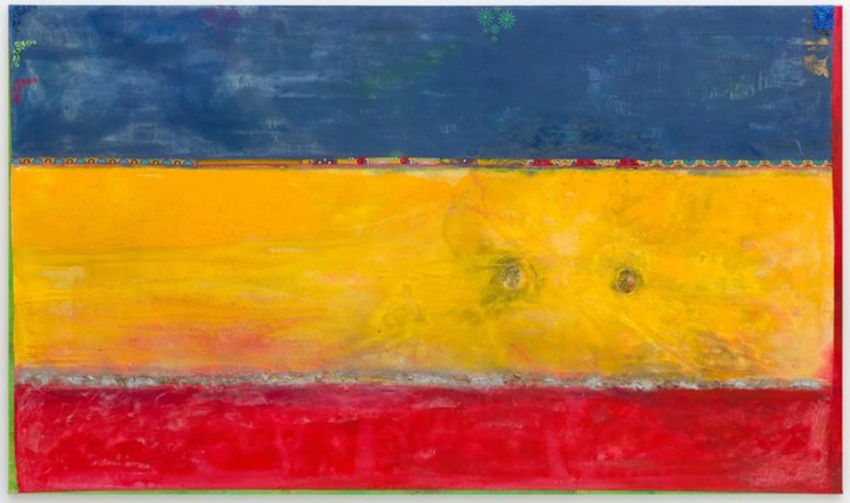 Frank Bowling - Elder Sun Benjamin, 2018. Acrylic and mixed media on canvas. 119 5/16 x 203 9/16 in (303.1 x 517 cm). San Francisco Museum of Modern Art (SFMOMA). © Artists Rights Society (ARS), New York / DACS, London
James Little
James Little is adept at creating paintings that force the eye not to see them all at once. He is a master of defeating our urge to simplify. In his works, chromatic impressions multiply until we are forced to acknowledge, finally, that the simple joy of giving in to sensation is more important, and more satisfying, than we usually allow ourselves to believe.
James Little - Exculpatory Evidence, 2019. Oil on linen. 40 x 51 in (101.6 x 129.5 cm). Louis Stern Fine Arts. © James Little


Featured image: Odili Donald Odita - Heat Wave, 2018. Acrylic on canvas. 80 3/10 x 103 9/10 in (204 x 264 cm). Stevenson. © Odili Donald Odita
All images used for illustrative purposes only
By Phillip Barcio