Blog Home
Original Abstract Ink Art You Shouldn't Miss
May 22, 2020
The ink art has been around for millennia - from its uncouth and scanty Greek beginnings to the most sophisticated artworks created during Tang and Song dynasties in China and followed by the Muromachi period in Japan, and it embodies continuity and legacy of bygone times. While ink art was the main and most flourishing medium of Asian art, European traders were much fonder of vivid and decorative Chinese porcelain than the ink artworks with its distinct creative practices and aesthetic representations. Vilified during the Cultural Revolution in mainland China, modern ink art emerged in Hong Kong during the 70s as exiled Chinese painters experimented with abstraction and thus creating the most astounding abstract ink art. The contemporary ink art evolved from the intriguing exploration of artists' own cultural legacy and self-identity as well as following on the most recent developments in global contemporary art. Navigating different abstraction styles, but coquetting with expressionism and conceptual art as well, most artists convincingly pursued abstraction that allowed for reframing the critical concepts of medium and arriving at the more expanded view of ink art. This blending of traditional ink art with Western abstraction initially attracted artists from Taiwan, mainland China, Hong Kong, Japan, and Korea, but a cohort of Western artists followed as pouring and splashing were added to a brushwork. As abstract art is gaining popularity, collectors are rushing to add more new pieces to their collection. Find your favorite artwork from our weekly collection and become a proud owner of one!


Martín Reyna - Untitled (Ref 19016)
This most recent from Reyna embodies his distinct technique of diluting ink and adding some water on the paper so that the colors disperse and interact in the most unusual ways. By moistening the surface, he allows ink to react spontaneously and unpredictably as colors dispel and scatter, graciously vibrating, and transgressing its initial boundaries. Untitled (Ref 19016) elegantly balances Reyna's dedication to plan the linear and spatial properties of his compositions carefully and to allow the forces of nature to seize the process and lead it most erratically. Reyna is an Argentinian-born abstract painter living in Paris, France. His gestural abstract paintings delight the eye and activate the mind with their luminous color relationships and deft explorations of perspective and space.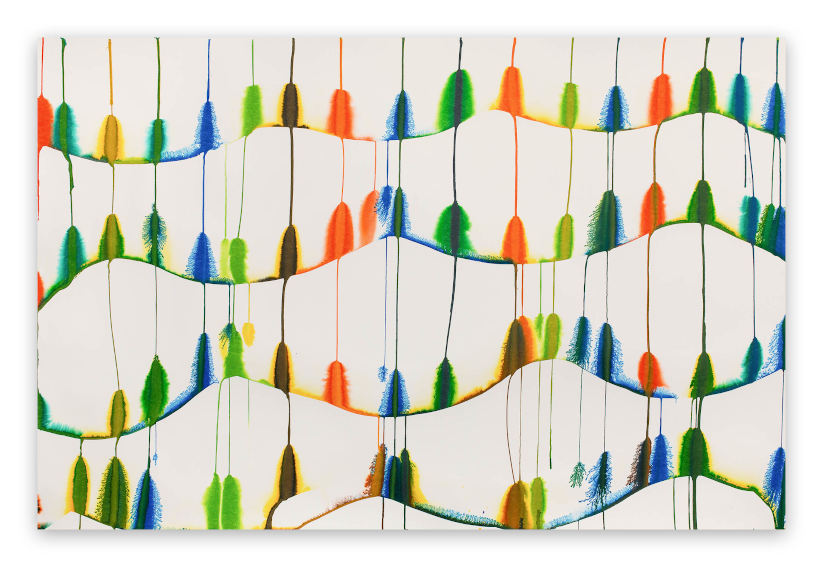 Martin Reyna - Untitled (Ref 19016), 2019. Ink on paper. 100 x 150 cm.
Harald Kröner - Yappanoise 33
Yappanoise 33 is part of one of four on-going series of large works on paper that is inspired by James Joyce's monster words and neologisms that directly alludes to three aspects of the work: yappan (use of Japanese ink), yap (sudden burst of color marks spread over the white paper) and noise (sonority of colors). The black and grey lines, both horizontal and vertical, set the rhythm and orchestrate the whole piece, while the paper ridges make it more sculptural. Kröner manipulates paper applying his signature technique inspired by film editing that results in the careful exploration of complete randomness as he tries to find the balance between chance/control and chaos/order and inspire the viewer to offer his/her own interpretation. Kröner is a German artist who could be described as "paper artist," producing primarily works on paper and collages. His work also involves public installations. He lives and works in Pforzheim, Germany.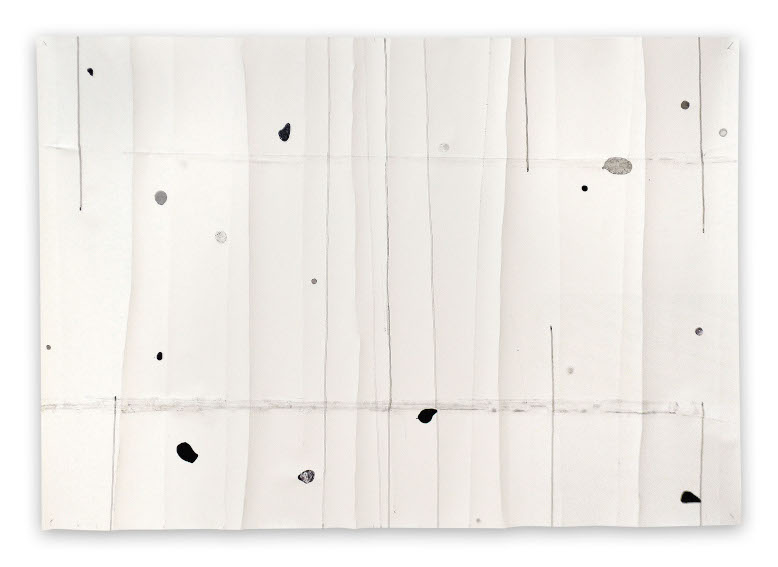 Harald Kröner - Yappanoise 33, 2014. Ink, enamel on paper. 110 x 160 x 3 cm.
Joanne Freeman - Covers 4 Ultramarine
Series Covers is Freeman's personal homage to mass media cover visuals from the mid-century popular culture. She merges the quality and feel of traditional fine art prints with the low tech graphics of pop culture. Combining etching ink and aquatint, Freeman accentuates her reductive visual language that highlights the intensity of physicality, emotion, limitation, and randomness. Ink is ideal for emphasizing her reduced palette that captures the interaction of the ground and foreground as she explores the visual references of urban symbols and architectural patterns. Freeman is an American abstract painter who creates minimalist reductive paintings and works on paper, featuring hard-edged abstract forms and bold, vivid, gestural markings. She lives and works in New York City.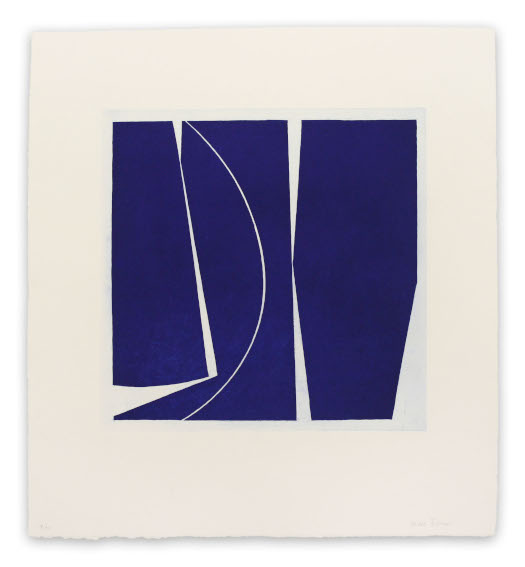 Joanne Freeman - Covers 4 Ultramarine, 2017. Aquatint made with oil based Charbonnel Etching Ink, printed on 100% rag paper Copperplate Warm White. 71 x 66 cm.
Margaret Neill - Receiver 1
Neill applies black ink on paper to create fluid and unsettling geometric formations that embody the intensity and expressiveness of Lyrical Abstraction. Her intuitive and non-representational approach results in a lyrical and eloquent expression that relies on the intersection of the multilayered forms and richly worked surfaces that illustrate the fluidity of time. Receiver 1 examines how evocative qualities of earth and sky interact with urban elements of objects and architecture as she explores her own relationship with time and space. Neill is an American abstract artist from Ohio, using a variety of mediums to create lyrical, gestural imagery informed by curves and non-representational shapes and forms. She lives and works in Brooklyn, NY.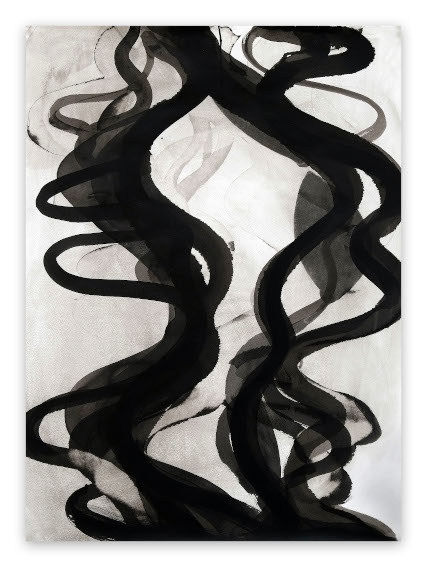 Margaret Neill - Receiver 1, 2018. Ink on paper. 74.93 x 55.88 cm.
Pierre Muckensturm - 174c091011
This aquatint print is a part of Muckensturm's efforts further to address his abiding interest in time, and perspective. 174c091011 is a polyptych of nine elements that underline his infatuation with constancy and temporality revealed through an unsettling dichotomy between a repetitive and cyclical nature of time and singular, isolated events that are disrupting that harmony. He unleashes his creative process by applying gestural marks, scrutinizing them and transforming them gradually as he explores how their altering in size, shape, depth, magnitude, and orientation convey different meanings. Muckensturm is a French abstract painter and printmaker whose visual language is one of harmony, calmness, and timelessness. Born in Strasbourg, France, he currently lives and works in Colmar.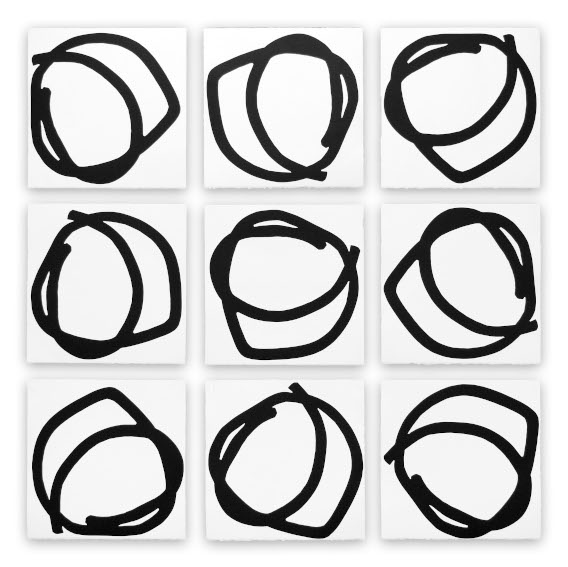 Pierre Muckensturm - 174c091011, 2018. Aquatint copperplate printing on BFK Rives paper 250 g. 156 x 156 cm.
Jill Moser - Billabong
Made by aquatint with spitbite and drypoint, Billabong reveals Moser's profound immersion in the history of written language and semiotics behind every mark. Her fascination with visual and indexical language is disclosed in her robust brush marks that feel spontaneous and unrestrained, but which evolve through a methodical, indexical process. Billabong captures Moser's vigorous brushstrokes that result in a lyrical, contemplative expression that echoes her most profound affective states as she balances the revelatory and interpretative level, actively engaging the viewer. Moser is an American abstract artist whose work explores the intersection of painting, writing, and the animated image. She lives and works in New York.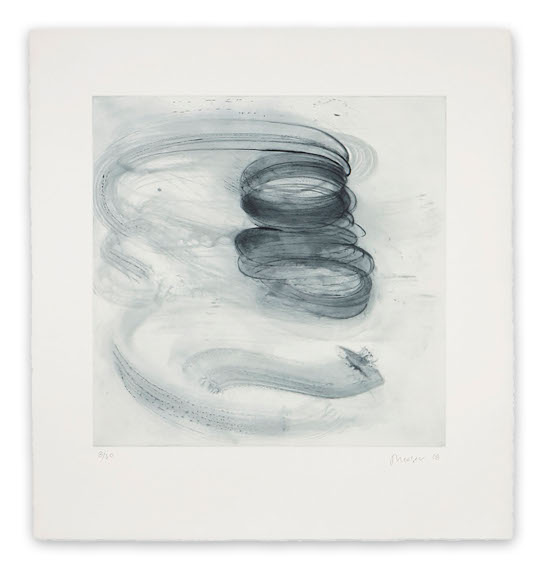 Jill Moser - Billabong, 2008. Etching. 58.4 x 53.3 cm.
Stephen Maine - Pitched Planes 135
Part of the Pitched Planes series, Pitched Planes 135, is a distinct relief print that delves into the lucidness of the constituent patterns as they meld in various layers. The relief prints are made using printing surfaces of different industrial products, printed with etching ink and woodcut. The transparency of all layers creates an optical blending of hues disclosing Maine's ever-lasting fascination with color and its material properties. In Pitched Planes 135, he suspends his ego allowing composition phenomena to occur with minimal interference from his side, and the viewer becomes immersed in the emerging spatial depths as the illusion of the third dimension appears. Maine is an American abstract painter, writer, curator, and teacher whose paintings engage and extend contemporary ideas about color, composition, surface, and process. He lives and works in Brooklyn, New York.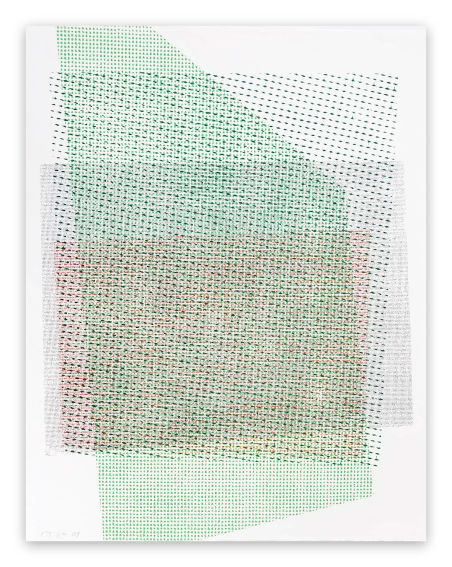 Stephen Maine - Pitched Planes 135, 2004. Relief Monoprint. 61 x 48 cm.
Anne Russinof - Ribs 12
For Russinof, color is everything - color serves to create a window onto natural space and light. Ribs 12 is her visceral emotional reaction materialized through paint deeply embedding her initial visual stimulus in color. As she adds layers, color relationships evolve; depth gradually appears, and form triumphantly emerges. Russinof is inspired by the search, an unfolding mystery, and suspense that announce the fascinating interaction between layers of wet paint. Her work feels spontaneous and intuitive, concealing the intentionality and preparation behind it. Russinof is an American abstract painter whose work examines color and structure in a gestural, expressionist manner. Born in Chicago, Illinois, she currently lives and works in New York.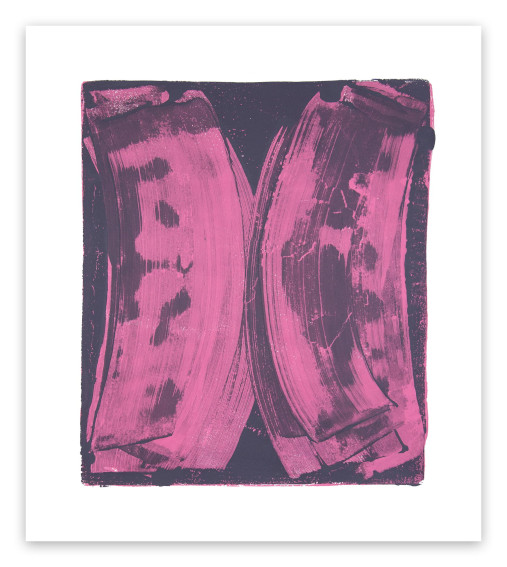 Anne Russinof - Ribs 12, 2017. Monotype. 46 x 41 cm.
Featured image: Anne Russinof - Ribs 12, 2017, installation view.
By Jovana Vuković