Blog Home
How Abstract Expressionism Influenced Sculpture - A Guggenheim Show
Oct 21, 2020
A recently opened sculpture exhibition at the Solomon R. Guggenheim Museum in New York feels confused when it comes to the legacy of white, patriarchal art movements from the past. Knotted, Torn, Scattered: Sculpture after Abstract Expressionism claims to be a consideration of "the diverse ways that artists in the 1960s and 70s responded to the achievements of Abstract Expressionist painters to formulate unique approaches to sculptural practice." The curation includes works from the Guggenheim collection by six artists: Richard Serra, Robert Morris, Tony Smith, Lynda Benglis, Senga Nengudi, and Maren Hassinger. The curation (and accompanying writing) implies an overall level of sympathy with Abstract Expressionism that really only applies to half of the artists in the show—the men. Whether they were attempting to further it, or were explicitly rejecting it in their practice, Serra, Morris and Smith each at least stated at some point a congeniality to the idea of being part of the official art historical lineage to which Abstract Expressionism belongs. However, it is a stretch to say the same about Benglis, Nengudi and Hassinger—the three women whose work is included in the exhibition. For her entire career, Benglis has been been drawing attention to the misogyny of Abstract Expressionism, Minimalism, and their protagonists, and to the entire racist, sexist, patriarchal vision of art history they represent. Nengudi and Hassinger, meanwhile, have spent their respective careers devoted to crafting completely distinctive visual voices that, if anything, subvert the gendered, patriarchal systems celebrated in this show. Perhaps the Guggenheim was trying to be anti-sexist and anti-racist by curating Benglis—a giant of Feminist art—and Nengudi and Hassinger—two women of color—into a show with three icons of white, patriarchal art history. However, if that was the idea, I feel the attempt falls flat, and maybe even achieves the opposite goal.
Representation in Inspiration
In 2014, the Museum of Contemporary Art in Denver mounted an ambitious retrospective of the work of Senga Nengudi, who is a long-time resident of nearby Colorado Springs. That retrospective gave proper representation to the inspirations of this artist. In doing so, it made clear that Nengudi is a distinctive artist whose work cannot be explained in terms of the usual art historical canon. Born in Chicago in 1943, she moved with her mom in 1949 to Los Angeles. After earning her BA at Cal State, she attended Waseda University in Tokyo for a year, where she familiarized herself with the ideas and methods of the Gutai Group. Upon returning to Los Angeles, she became part of the experimental Studio Z collective, and began developing a multi-disciplinary practice rooted in the intersection of Black Feminist performance and sculpture. In 1974, she started working with pantyhose, documenting intuitive dance performances in which she manifested sculptural inhabitations of space, becoming tangled up with lengths of the material that were attached to walls. Her work in the current Guggenheim exhibition is taken from that series. It could plausibly be placed in the legacy of Gutai, Fluxus, Feminism, and the Black avant-grade, but shoehorning it into a conversation about Abstract Expressionism is a stretch.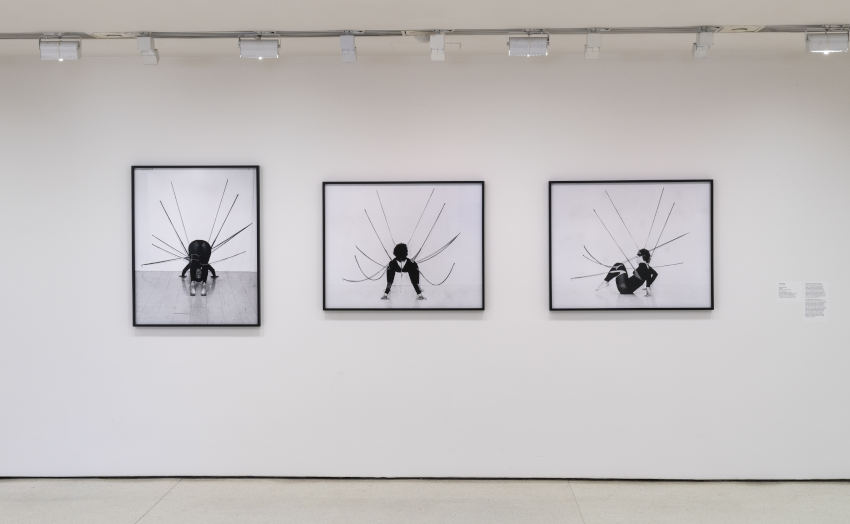 Senga Nengudi - Performance Piece, 1978/2013. Gelatin silver prints, triptych, 40 x 31 1/2 inches (101.6 x 80 cm) and 31 1/2 x 40 inches (80 x 101.6 cm) each. A.P. 1/1, edition of 5. Photographs by Harmon Outlaw. Solomon R. Guggenheim Museum, New York, Purchased with funds contributed by the Photography Council, with additional funds contributed by Manuel de Santaren 2019.20. © 2020 Senga Nengudi


A native of Los Angeles, Maren Hassinger has had a life-long association with Nengudi, and the two are even occasional collaborators. Like Nengudi, Hassinger is a completely distinctive artist whose work bears almost no connection to the ideological legacy of Abstract Expressionism. Hassinger studied at Bennington College in Vermont, and bemoaned the way her teachers held up Clement Greenberg and his vision of art history as the end-all be-all. Her fiber sculptures and installations have an emotional weight that shares more in common with the works of Eva Hesse, another completely distinctive artist, whom Hassinger counts as an influence. The Hassinger work in the Guggenheim exhibition was recently acquired by the museum. It features large-scale nautical ropes with nooses tied in them. Somehow, the writing accompanying the show relates this work to a pile-of-felt sculpture by Robert Morris. I understand the Guggenheim wants to show off this amazing new Hassinger acquisition, but why pretend it has anything to do with Minimalism or Morris? Were the curators uncomfortable giving this powerful work its own space to express its true concerns?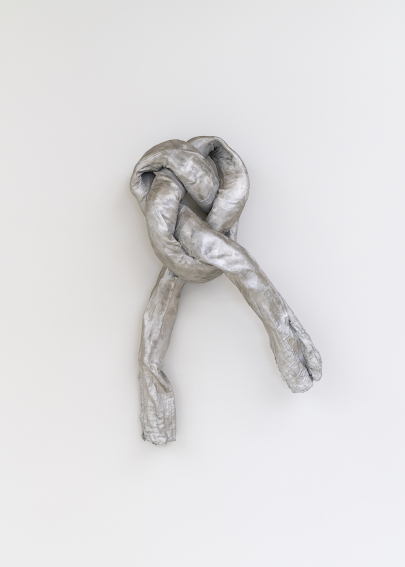 Lynda Benglis - Juliet, 1974. Aluminum plaster, aluminum screen, 32 1/2 × 19 3/4 × 7 1/4 inches (82.6 × 50.2 × 18.4 cm). Solomon R. Guggenheim Museum, New York, Gift, Andrew Powie Fuller and Geraldine Spreckels Fuller Collection, 2009.4. © Lynda Benglis / Licensed by VAGA at Artists Rights
Replace the Patriarchy
In a sort of backwards way, Lynda Benglis is the one female artist who might be able to be included in this exhibition because in the late 1960s, Benglis made a series of floor paintings responding to the domineering, patriarchal stance espoused by Pollock and the Abstract Expressionists. However, Benglis was not being sympathetic by mimicking this way of painting. Quite the opposite. It was a gesture intended to ridicule the movement. The two works by Benglis that are included in Knotted, Torn, Scattered—"Two" and "Juliet"—were made in 1973 and 1974, respectively. By this time, Benglis had moved on to making groundbreaking video works, and although she still worked in other mediums like sculpture as well, she was fully working in a creative mental space that was separate from maleness—and totally removed from the ethos of the male-centric art historical canon. It seems wrong that these two knotted sculptures by Benglis are presented in this exhibition as extensions of some aesthetic or intellectual legacy that Pollock started.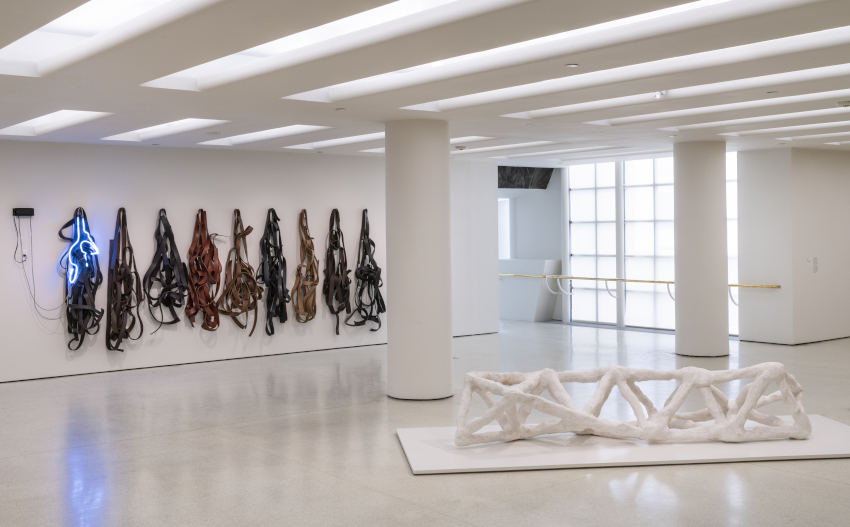 Shown in foreground: Tony Smith - Wingbone, 1962. Plaster, cloth and wood, 26 x 25 x 118 inches (66 x 63.5 x 299.7 cm). Solomon R. Guggenheim Museum, New York, Purchased through prior gifts of Andrew Powie Fuller and Geraldine Spreckels Fuller Bequest and Richard S. Zeisler Bequest, 2013.7. © 2020 Estate of Tony Smith / Artists Rights Society (ARS), New York


To quote the Manifesto of Feminine Revolt (1970), "Woman must not be defined in relation to man. Man is not the model to hold up for the process of woman's self discovery." The same sentiment applies to artists who self-associate with any human identity being defined in relation to artists of any other human identity. Lumping the works of Benglis, Nengudi and Hassinger into a show celebrating the white, patriarchal history of art undermines the work these artists have done to manifest their full potential as individuals, and negates their true legacies. The arbitrary, and at best partial version of art history that Knotted, Torn, Scattered is based on has its place, but these artists deserver better than to be shown in bondage to it.
Featured image: Maren Hassinger - Untitled, 1972/2020. Rope. Dimensions variable. Solomon R. Guggenheim Museum, New York. Purchased through prior gift of Judge and Mrs. Samuel I. Rosenman, 2020 © 2020 Maren Hassinger
All images used for illustrative purposes only
By Phillip Barcio