Blog Home
This Week's Pick of Artworks to Collect - Abstract Drawings!
May 15, 2020
An indelible dilemma survives our times: are drawings - and to which extent - artworks in their own right or do they belong to an exploratory and even auxiliary form as they are absorbed in larger, emerging work. Dependent, even subordinate role of drawing - both conceptually and materially - lasted until the 14th century when it gradually became more autonomous and has developed a focus on details, preciseness, and unique pictorial structure. But its meandering fate continued far into the modern age and abstract drawings continue to vacillate between their autonomous and dependent status. For some abstract artists, drawings were self-standing and by-themselves artworks. Ellsworth Kelly's youthful fascination with a contour drawing and line drawings of Picasso and Matisse played a vital role in his development as an artist. His Smoke from Chimneys, Automatic Drawing from Rue de Blainville, with lines and forms haphazardly intersecting as they retained the impulse toward a rational composition adeptly marries abstraction with Surrealist action drawing (unlike his more famous plant drawings that sporadically slip into representational art). The same, unparalleled fascination for drawings as bones of thoughts, was shared by Dorothea Rockburne whose precise geometric drawings on a manipulated paper reflected key mathematical concepts as well as her efforts to visually solve equations. For others, including most Abstract Expressionists drawings merely served as preparatory sketches for their larger canvas work. Many of their - used and unused - preparatory drawings are preserved at MoMa; Willem de Kooning's unused prep drawing with crayon or charcoal on acetate or Helen Frankenthaler's pencil and ink on acetate pieces are particularly captivating as they hesitantly announce the larger, emerging work. However, as mixed media was gaining popularity, drawing became increasingly incorporated in other forms. From Franz Kline who used ink to draw on printed (news)paper to Sol LeWitt who since the mid-1980s was depicting three-dimensional forms in his wall drawings and work on paper, drawing became a critical ingredient of mixed media art. If you share our passion for abstract drawings, please scroll below to learn about our latest collection of abstract drawings.


Richard Caldicott - 19.6.17
Caldicott's drawings are distinctly minimalist, with architectural character, and created with only one or two lines. Using pen and inkjet, in 19.6.17, he opts for pastel tones and softened colors along with a formal composition to create a sense of austerity and refinement. His versatility as an artist allows him to experiment with confidence with a variety of techniques including drawing with a ballpoint pen and using inkjet printing as he reveals the simplicity and unpretentiousness of his creative process. Inspired by architecture, musical structures, formalism, and geometry his drawings are precise, lucid, and modest. Caldicott is an English artist who explores abstract photography and creates abstract compositions on paper. He lives and works in London.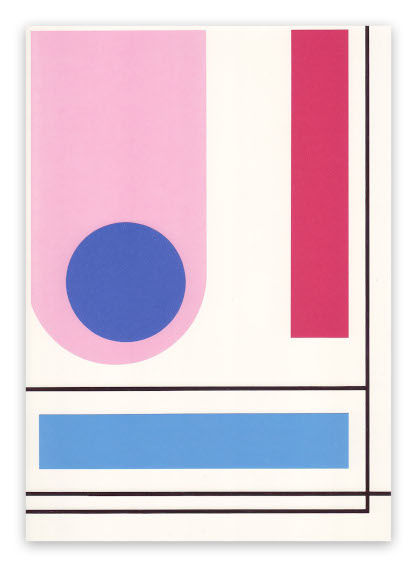 Richard Caldicott - 19.6.17, 2017. Pen and inkjet on paper. 29.7 x 21 cm.
Xanda McCagg - Adjacent 6
An initiation piece that announces McCagg's larger bodies of work, Adjacent 6 is made with paint sticks and pencil on paper and primed with gesso that captures vibrancy and fervor of her technique. She delivers subtle marks and vast color fields also using lines to emphasize different ideas. Adjacent 6 blends thin and ethereal color with rough and bleak lines allowing her intuition to guide her through her artistic escapades. She meticulously articulates the sophisticated evolution of her underlying aesthetic vocabulary that rests on the elusive distinction between perception and imagination. McCagg is an American abstract artist who lives and works in the Chelsea neighborhood of New York City.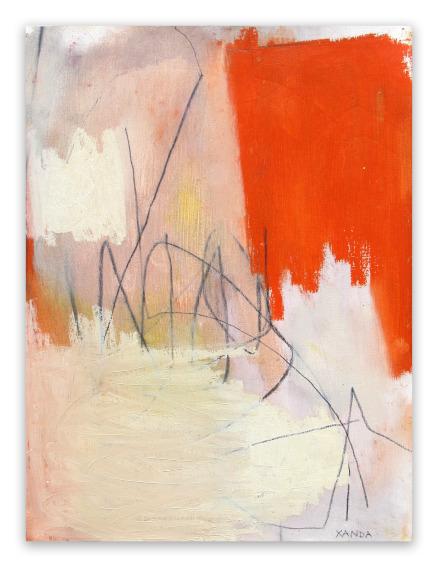 Xanda McCagg - Adjacent 6, 2013. Pencil and paint stick on paper. 40.6 x 30.5 cm.
Margaret Neill - Manifest 1
Part of the Manifest series, Manifest 1 is a large charcoal work on paper that allows primal material such as charcoal to determine the final outlook of Neill's work while a particular formal conception evolves through the series. Celebrated for prioritizing the artist's hand, her intuitive movements let nature and the visual experience to gradually emerge. Her fluid, intertwined lines and wriggled unsettling geometric forms emanate a lyrical and eloquent expression of the fluidity of time. Neill's distinct Lyrical Abstraction is visceral as she uses optical sensations to reinterpret the appearances of the natural world. Neill is an American abstract artist from Ohio, using a variety of mediums to create lyrical, gestural imagery informed by curves and non-representational shapes and forms. She lives and works in Brooklyn, NY.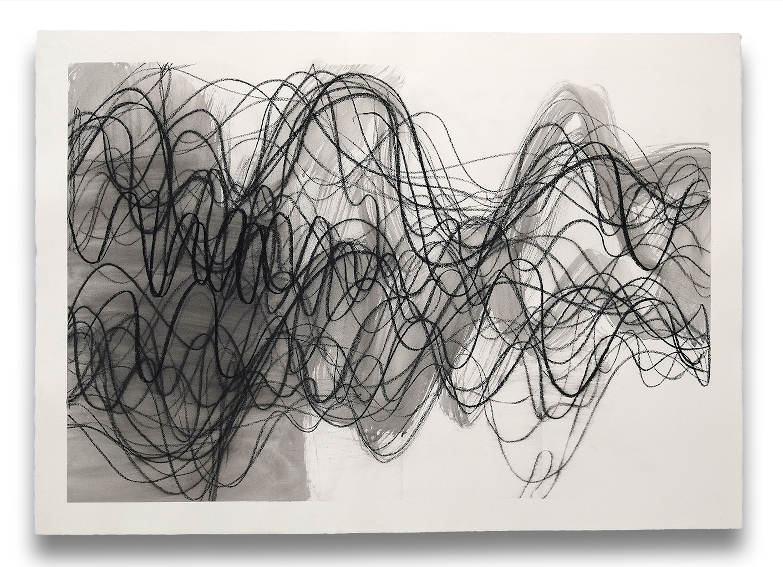 Margaret Neill - Manifest 1, 2015. Charcoal and water on paper. 73.6 x 106.6 cm.
Jaanika Peerna - Thaw 3
The recent Thaw series reveals Peerna's profound concerns about environmental problems and how climate change impacted the rapid melting of glaciers. Thaw 3 is a freehand drawing on two layers of plastic paper depicting the process of ice melting into water. Peerna draws holding a number of pencils while the physical movements of her hands mimic the sound of ice when the temperature fluctuates. The layering of elusive blue pencils and graphite, in an erratic but repetitive manner, gives rise to a sublime feeling that something fragile and precious both vanishes and appears at the same time. Peerna is an Estonian-born artist whose work encompasses drawing, video, installations, and performances. She lives and works in New York, Berlin, and Tallinn.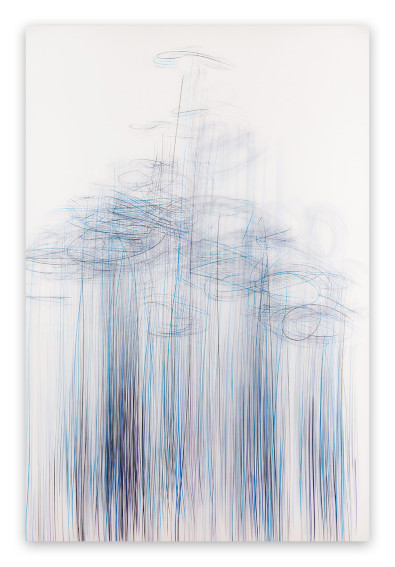 Jaanika Peerna - Thaw 3, 2017. Graphite and colored pencil on two layers of plastic paper. 134.6 x 91.5 cm.
Ellen Priest - Jazz Cubano 42: Percussion Drawing
Though Priest has been fascinated with jazz for a long time, she recently embraced drawing in her series inspired by Cuban Jazz as she finds the drawing to be thinking-out-loud of visual art. Priest visually depicts the space and movement created by the complex rhythms of Cuban Jazz as she attempts to mimic its layered intricacy through the physicality of her works. Her drawings are collaged with pronounced dimensionality that obfuscates the line dividing two- and three-dimensional space and she (re-)creates a materialized movement in the actual world of colored space. Priest is an American abstract artist who is inspired by music and most notably by jazz. She lives and works near Philadelphia.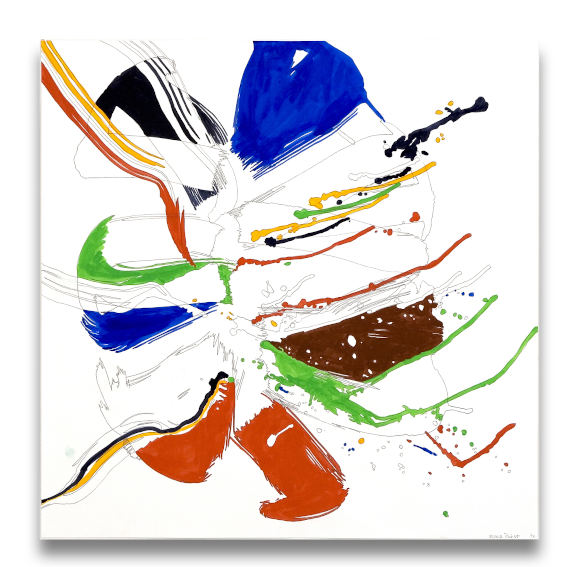 Ellen Priest - Jazz Cubano 42: Percussion Drawing, 2012. Flashe & pencil on paper. 76.2 x 76.2 cm.
Audrey Stone - Nb. 80
Nb. 80 exemplifies Stone's lasting exploration in what defines a line by combining a thread, ink, and graphite within a grid format. The lines initially appear identical, but a closer inspection reveals that some lines are sewn into the paper and others are drawn in ink or graphite. Stone uses two different materials and thus two different visual expressions to create similar effects of the line while blurring the distinction between the craft and fine art. The thread line intrinsically includes a sculptural element unlike the drawn line that either remains on the top of the paper surface or sinks into it, juxtaposing two- and three-dimensional nature of the line. Stone is an American abstract artist. Her work explores color, line, materiality, and process across multiple mediums and surfaces. She was born in New York City, and currently lives and works in Brooklyn.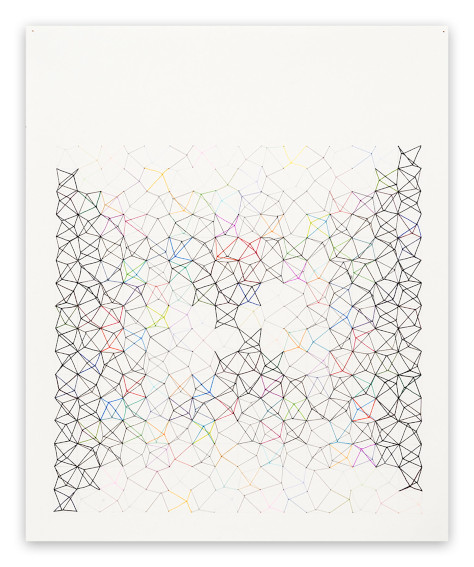 Audrey Stone - Nb. 80, 2012. Thread, ink and graphite on paper. 43.2 x 35.6 cm.
Tilman - Untitled (137.13)
Inspired by Concrete Art and Minimalism, Tilman's celebrated works on paper are a personal depository of his ideas derived from his restless visual mind. Using crayon on vellum paper he allows his visual memory to translate itself on the paper revealing painterly quality and surface structure. Untitled (137.13) most uniquely addresses the ways of seeing and perception, engaging the viewer to investigate beyond the surface that interacts with light, re-ordering the visual environment. Tilman is a German abstract artist and curator. His work includes paintings, built environments, and stacked and layered wall and floor-based objects. He lives and works in New York City and Dolceacqua, Italy.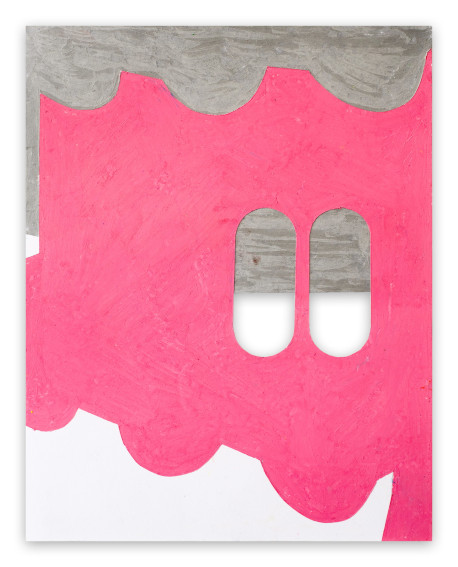 Tilman - Untitled (137.13), 2013. Crayon on vellum. 35.5 x 28 cm.
Tenesh Webber - Photo from Drawing
For more than 25 years, Webber explored with unrivaled interest the medium of abstract photography only to transpose that same interest to drawing in recent years. Her drawing vocabulary develops apace with her intention to use the drawing process as its own medium. She uses a charcoal pencil on Stonehenge paper to create abstract images that develop the ideas she has long focused on photographically -- the ideas of the grid, depth and shadow, movement and stasis. Photo from Drawing is a condense, intuitive piece that focuses on stasis, state of stability and inactivity, the overall equilibrium. Webber is a Canadian abstract photographer whose work explores and challenges conventions of traditional black and white photography. She lives in Jersey City, New Jersey and works in Bushwick, Brooklyn.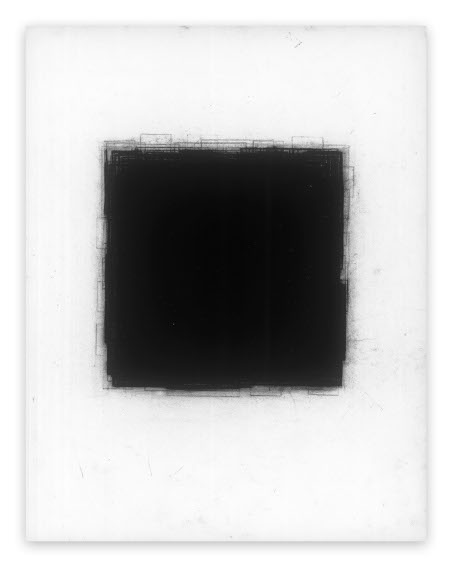 Tenesh Webber - Photo from Drawing, 2019. Charcoal pencil on Stonehenge paper. 35.5 x 28 cm.


Featured image: Ellen Priest - Jazz Cubano 42: Percussion Drawing, 2012, installation view.
By Jovana Vuković