Blog Home
The Most Important Abstract Artists of the 21st Century – So Far
Feb 12, 2020
If you are anything like me, even though I wrote the piece, you may be a little bothered by the title of this article. How, only two decades in, can I possibly know who the most important artists of the 21st century will be? In 1920, many of the most important artists of the 20th century were not even born yet. And anyway, what is the criteria for establishing whether an artist is important? Even though I agree with these points, I nonetheless find it useful to take stock now and then of what artists I think are important and why, and the beginning of a new decade seems like a perfectly good excuse. As for what defines an important artist, in my 11 years as an art journalist (a drop in the bucket compared to many of my colleagues), I have heard dozens of answers to this question. Most people fall back on three metrics: fame, auction prices, and inclusion in prestigious exhibitions and collections. Yet, while that may be the trifecta of notoriety that can guarantee an artist a Wikipedia page, it has little, in my opinion, to do with making an artist important. To me, the only satisfactory measure of the importance of an artist is the influence they have on other human beings. Important artists inspire people to keep believing in the value of art, and they convince other people to try making their own art, or to keep making their own art. As for who is included on this list, it is inevitable that it is incomplete, inaccurate, and controversial; all lists are. Nonetheless, each of these ten artists earned their inclusion here because of the influence they have already had both on other artists, and on people outside the art field. They are pollinators, spreading the necessary ingredients of inspiration, experimentation and action, so we can keep abstraction thriving into the future.
Tomma Abts
For nearly two decades, German painter Tomma Abts (b. 1967) has been making the same sized painting over and over—48 x 38 cm. She works intuitively to craft abstract, geometric compositions that follow their own logic, frequently painting multiple layers over compositions until she is happy, while letting the impasto ridges of past layers show through. Un-beholden to any visual style, dedicated only to her method, Abts is famously slow-working. Despite not being prolific, and despite ignoring the demand to define her visual style, Abts became the first female painter to win the Turner Prize—living proof of the value of finding your own way.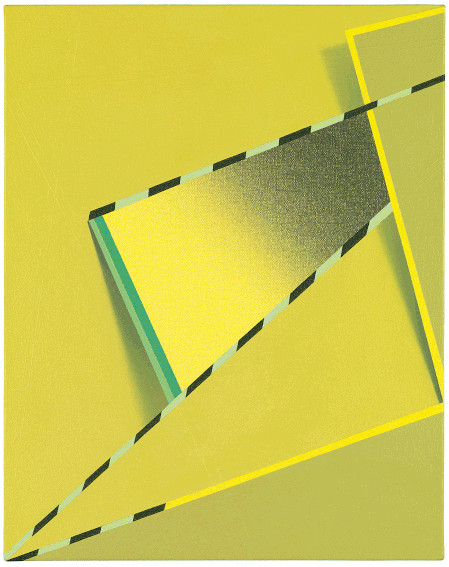 Tomma Abts - Feke, 2013. Acrylic and oil on canvas. 48 x 38 cm, 18 7/8'' x 15''. Courtesy Private Collection, New York. Serpentine Galleries.
Mark Bradford
Mark Bradford (b. 1961) combines the methods of painting, collage and décollage to create abstracted images that map his relationship between the physical and cultural realities of the present and the past. His materials and processes have inspired a generation of artists to create tactile works that speak to the interchange between growth and decay. Beyond his art career, Bradford is an influential community organizer, collaborating with philanthropist Eileen Harris Norton and activist Allan Dicastro to create Art + Practice, a place where at-risk neighbors, such as kids transitioning out of foster care, can participate in the arts.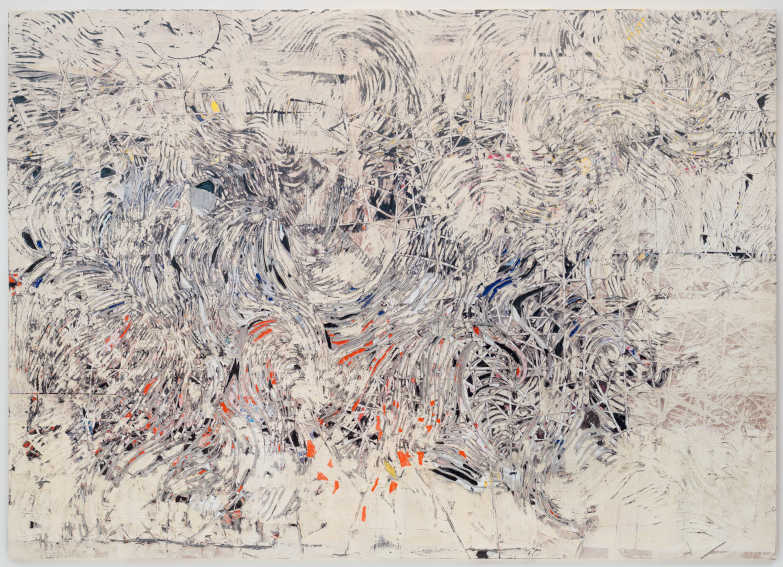 Mark Bradford - Monster, 2009. Printed materials, acrylic, carbon paper, twine, paper, and mixed media on canvas. 102 x 144 in. (259.08 x 365.76 cm). Collection SFMOMA. © Mark Bradford
Charline von Heyl
German abstract painter Charline von Heyl (b. 1960) rejects the cynicism of Post Modernism in favor of a belief that something novel can emerge from its wreckage. Von Heyl adopts all of visual history as her source material, combining innumerable references in individualistic ways that suggest we are the inheritors of a far more rich and diverse aesthetic legacy than our art history teachers let on.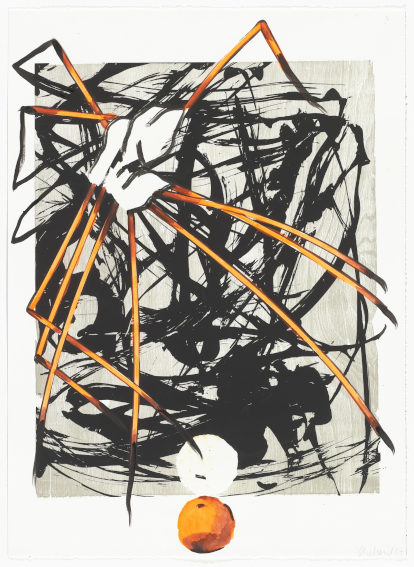 Charline von Heyl - Untitled, 2007. One from a series of ten monoprints with lithograph, woodcut,
screenprint, and digital print, with ink, acrylic, and collage additions. Fund for the Twenty-First Century. MoMA Collection. © Charline von Heyl


Nicholas Hlobo
Multidisciplinary South African artist Nicholas Hlobo (b. 1975) represents the vanguard of a hopeful time when data and analysis will become less important than feeling and creativity. His work is informed by his identity, yet he fearlessly goes beyond the facts of his cultural influences—facts that might otherwise force him to make work only about what is—to conjure semi-magical abstract works that grasp towards as sense of what might be.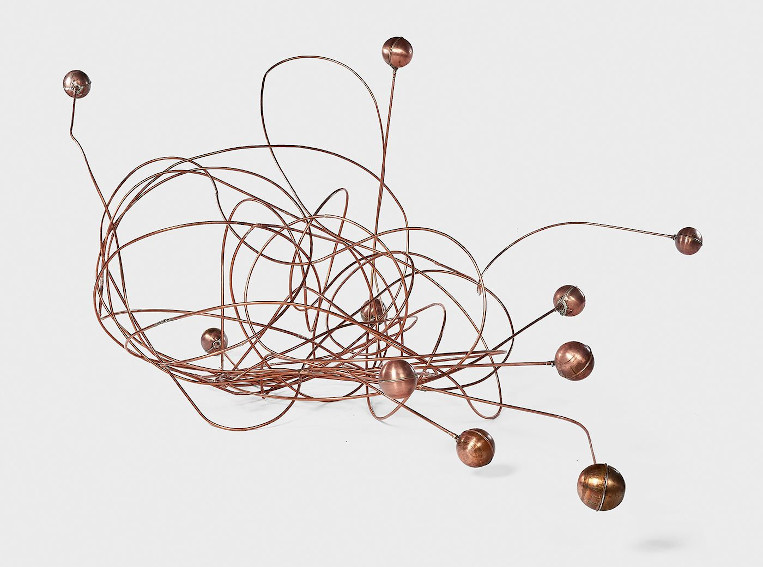 Nicholas Hlobo - Amasuntswana, 2018. Copper. 51.18 x 112.99 x 72.83 inches (130 x 287 x 185 cm). Lehmann Maupin. © Nicholas Hlobo
Jim Lambie
Scottish artist Jim Lambie (b. 1964) bridges the central conceit of Pop Art—that people "get it"—with the more intangible aspects of Abstraction. The massive floor installations for which Lambie is most well-known find common ground between these positions, taking formalism off the walls and filling tangible space with color, line, surface and shine. His installations instigate pressure-less, everyday interactions with viewers who can now literally see themselves inside of the work.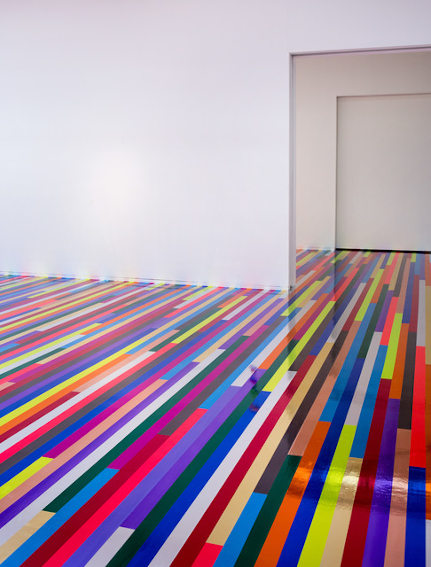 Jim Lambie - Sound System, 2015. Coloured metallic vinyl. Roslyn Oxley9 Gallery. © Jim Lambie
Julie Mehretu
To encounter a painting by Ethiopian-born, American painter Julie Mehretu (b. 1970) is to be invited into an entirely novel visual civilization. Each of her abstract compositions come into being like a complex, living organism, spreading, multiplying, and developing increasingly complicated structures and interdependencies. Mehretu perfectly expresses the multitudinous anxieties and opportunities of the interconnected age to which we belong.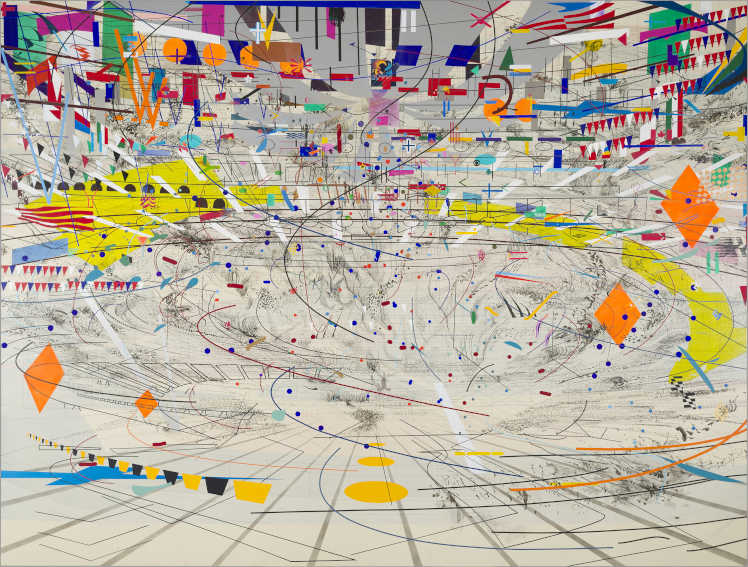 Julie Mehretu - Stadia II, 2004. Ink and acrylic on canvas. 107 2/5 × 140 1/10 × 2 1/5 in (272.73 × 355.92 × 5.71 cm). Performa, New York. Gift of Jeanne Greenberg Rohatyn and Nicolas Rohatyn and A. W. Mellon Acquisition Endowment Fund. © Julie Mehretu
Odili Donald
Odita Nigerian-born, American abstract painter Odili Donald Odita (b. 1966) is part of a wave of international artists bringing global attention the interconnections between the heritages of indigenous art and Western Modernism. Odita blends the patterns, colors and forms of his native Nigeria with the aesthetic strategies of Modernist abstraction, often deploying his large-scale works in public places, where they become the materialization of energy and universality on an architectural scale.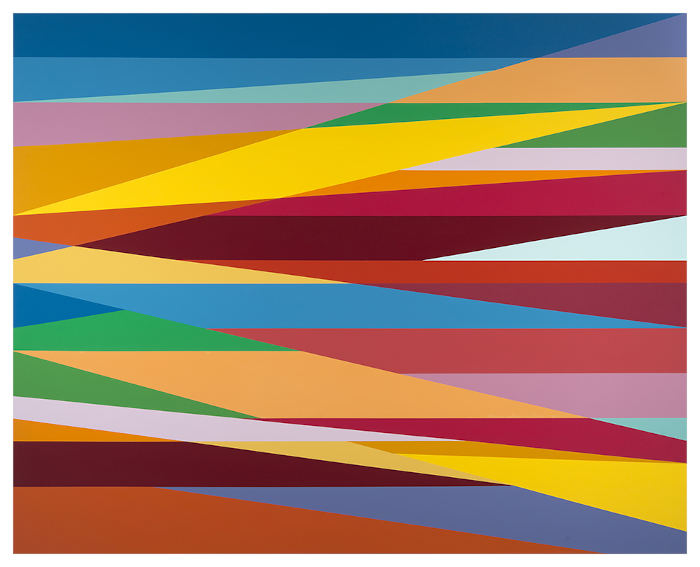 Odili Donald Odita - Desert Sun, 2014. Acrylic on canvas. 72 x 90 inches. Jack Shainman Gallery, New York. © Odili Donald Odita
Eva Rothschild
Irish abstract sculptor Eva Rothschild (b. 1971) boldly declares that activism is baked into the choice to make abstract art. In an era when narrative content seems to be king, Rothschild demonstrates how the timeless visual languages evident in Suprematism, Constructivism and Minimalism can create bold, new abstract forms that speak to freedom, independence, diversity and peace.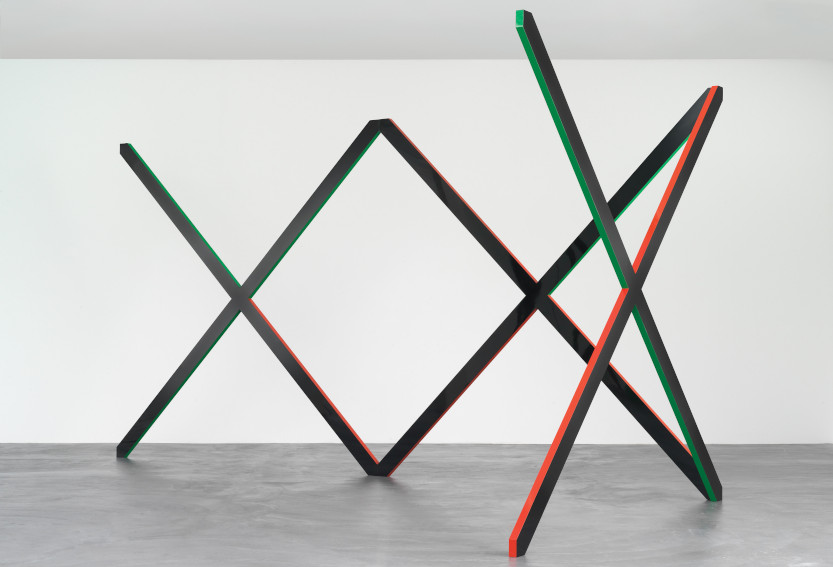 Eva Rothschild - xxx, 2013. Aluminum and paint. 280 x 560.5 x 279.5 cm. Photo: © Eva Rothschild, Courtesy Stuart Shave/Modern Art, London and Galerie Eva Presenhuber, Zurich
Thomas Scheibitz
German artist Thomas Scheibitz (b. 1968) answers the question of how whimsy and play can be taken seriously in the abstract art field, even in an era marked by anxiety. Combining the legacy languages of movements like Rayonism, Futurism and Cubism with echoes of architectural renderings and mid-century design, Scheibitz creates uncannily familiar works that seem to have emerged from a parallel aesthetic universe.
Pae White
American artist Pae White (b. 1963) uses abstraction to show us recognizable images of our time. Her fantastical works combine portrayals of the forces of nature with tid-bits jettisoned from our hyper-digitized, hyper-materialized present, showing us sometimes frightening scenes from the marriage of structure and confusion.
Featured image: Charline von Heyl - The Language of the Underworld, 2017. Acrylic and charcoal on linen. 90 × 108". © Charline von Heyl
All images used for illustrative purposes only
By Phillip Barcio