Blog Home
7 Times Abstract Art and Artists Were Featured on US Stamps
Dec 4, 2019
The United States has issued thousands of postage stamps over the course of its history. Hundreds have featured images of important artists and artworks, and a respectable number of those US stamps feature abstract art. Yet, sadly, most of these gems were issued long ago and thus are quite hard to find outside of pictures on the internet. There is, however, one hallowed place where you might go to see them in person. The National Postal Museum in Washington, D.C. is the place where philately (the love of stamps) and aesthetics (the love of art and beauty) intersect. Managed by the Smithsonian Institution, the NPM houses a monster assemblage of stamps and stamp related items known as the National Philatelic Collection. Within the National Stamp Salon—an intimate, Modernist gallery inside the museum—you may find at any given time a small portion of the collection on display. However, considering that the collection consists of nearly six million stamps, the chances you will happen to be there on a day when abstract art stamps are on view is small. No worries, though. Just call ahead. The museum is extremely supportive of philatelic research, so there is a good chance that if there is something specific you would like to see, the helpful staff will be willing to help you out. Meanwhile, here are seven of my favorite examples of abstract art and artists featured on US postage stamps.
Josef Albers: Glow
In 1980, the US Postal Service issued a 15 cent stamp featuring the phrase "Learning never ends." Printed above the words was an image of a painting called "Glow" (1966) by Josef Albers. Part of the Homage to the Square series, which Albers began working on in 1949, the painting radiates muted shades of red, burnt orange, ochre and yellow. The US Government did not have to great lengths to secure the rights to use this image on a series of stamps. The original painting is part of the permanent collection of the Hirshorn Museum and Sculpture Garden located right down the road from the Postal Museum on the National Mall.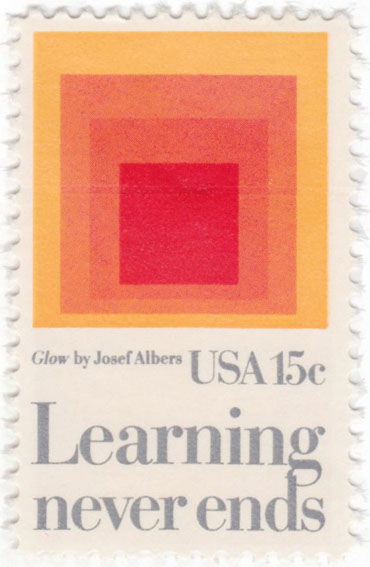 Glow (1966) by Josef Albers on US Stamp
Franz Kline: Mahoning
In 1998, four million copies of a 33 cent stamp were printed commemorating the work of the Abstract Expressionist painter Franz Kline. The stamp featured an image of the painting "Mahoning" (1956). The original painting, which is part of the permanent collection of the Whitney Museum of American Art in New York, is monumental in size, measuring a whopping 204.2 × 255.3 cm. Though nothing quite compares to the majestic feeling of standing in front of the original, it is remarkable how much power the image still holds when shrunken down to the size of a postage stamp.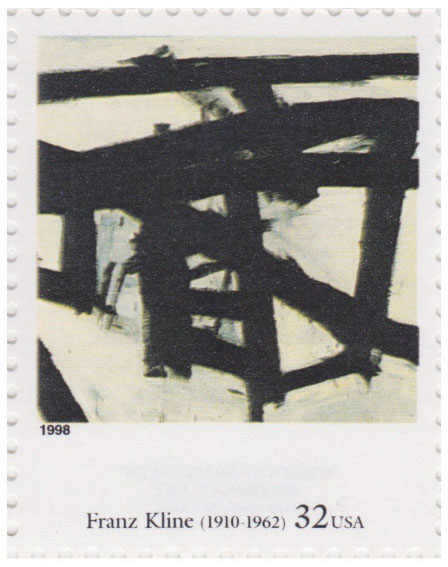 Mahoning (1956) by Franz Kline on US Stamp
Mark Rothko (Times Two!)
The work of Mark Rothko has been featured on US postage stamps more than once. His painting "No. 12" (1951) was featured on a 32 cent stamp issued in 1998. (The original painting is in the collection of Kate Rothko Prizel and Christopher Rothko.) In 2010, Rothko was again commemorated by the postal service when he was selected by Ethel Kessler and Jonathan Fineberg to be one of ten artists featured on a souvenir sheet of stamps celebrating the legacy of the Abstract Expressionists. His painting "Orange and Yellow" (1956) was chosen for that occasion.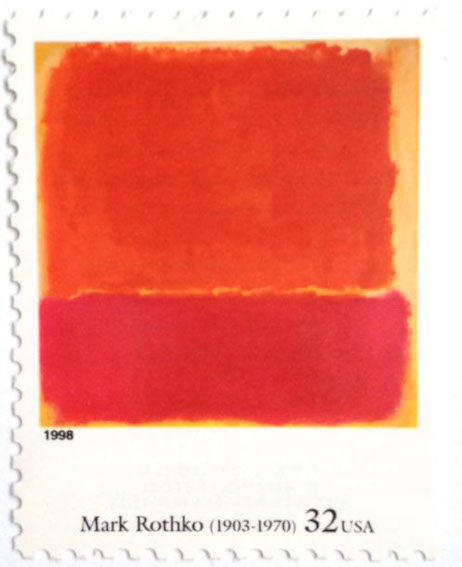 No. 12 (1951) by Mark Rothko on US Stamp
Georgia O'Keeffe
Female abstract artists are not only under-represented in American art museums, they are also woefully under-represented on American postage stamps! In fact, the only three female artists featured on US postage stamps are Mary Cassatt, Frida Kahlo and Georgia O'Keeffe. O'Keeffe is the only one of the three who focused specifically on abstraction. She has been featured twice on US postage stamps. In 1996, a 32 cent stamp was issued featuring her painting "Red Poppy" (1927), and then in 2013, her painting "Black Mesa Landscape, New Mexico/Out Back of Marie's II" (1930) was one of 12 paintings selected for a commemorative stamp series called Modern Art in America. These were hardly her most abstract works, but they do both exemplify the brilliant deployment of color, tonality and form for which O'Keefe is celebrated.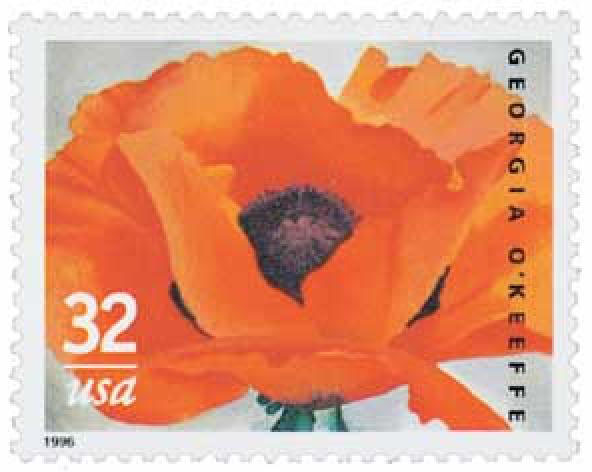 Red Poppy (1927) by Georgia O'Keeffe on US Stamp
Alexander Calder
Five works by Alexander Calder were memorialized on a series of 32 cent US postage stamps in 1998. The limited edition series of stamps featured several different aspects of his oeuvre, including "Black Cascade, 13 Verticals" (1959), a mobile, "Untitled" (1965), a multi-colored abstract floor sculpture, "Rearing Stallion" (1928), a figurative sculpture of a horse, "Portrait of a Young Man" (1945), a monochromatic abstract sculpture, and "Un effet du japonais" (1945), a kinetic sculpture blending various aspects of his work.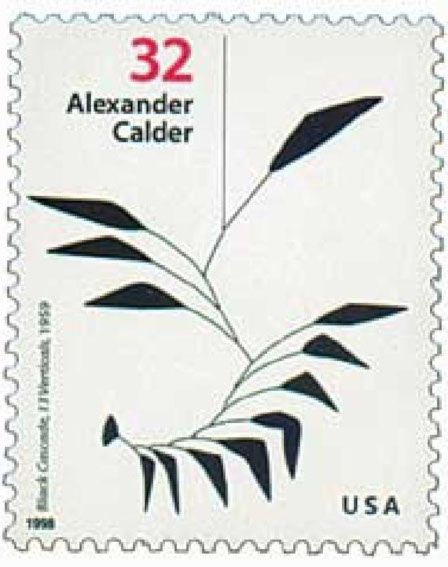 Black Cascade, 13 Verticals (1959) by Alexander Calder on US Stamp
Arthur Dove: Fog Horns
Not many people know the name Arthur Garfield Dove, but the early Modernist painter is considered to be the first American abstract artist. Born in the Finger Lakes region of upstate New York in 1880, Dove developed a quasi-mystical style incorporating biomorphic forms and a muted color palette. His abstract landscapes evoke the feelings inspired by natural phenomena rather than copying the imagery directly. In 2013, Dove was celebrated by the US Postal Service through a commemorative stamp featuring his oil on canvas painting "Fog Horns" (1929), which features three spectral forms suggestive of soundwaves created by the horns of ships lost in the fog.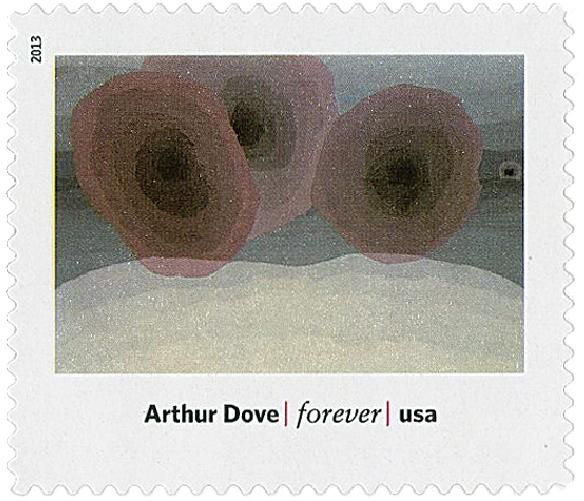 Fog Horns (1929) by Arthur Garfield Dove on US Stamp
Ellsworth Kelly
Ellsworth Kelly, who died in 2015, is one of the most recent abstract artists to be recognized by the US Postal Service. In 2019, a commemorative sheet of "forever" stamps was released featuring ten different examples of his work. The 10 artworks selected for the series mostly represent the early phase of his career, including "Colors for a Large Wall" (1951), "Meschers" (1951), "Spectrum I" (1953), "South Ferry" (1956), "Gaza" (1956), "Yellow White" (1961), "Blue Green" (1962), "Blue Red Rocker" (1963), and "Red Blue" (1964). One later work is included: "Orange Red Relief (for Delphine Seyrig)" (1990).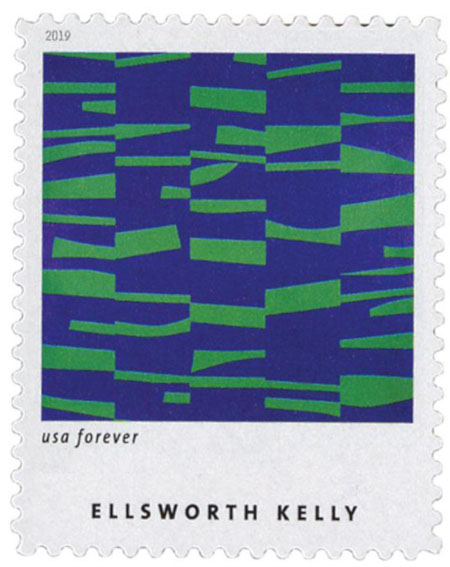 Meschers (1951) by Ellsworth Kelly on US Stamp
Featured image: American Art, 1998 (series)
All images used for illustrative purposes only
By Phillip Barcio